Two new fleas are discovered!
By RICHARDDAWKINS.NET
Added: Sun, 05 Oct 2008 23:00:00 UTC
http://www.amazon.com/Answering-New-Atheism-Dismantling-Dawkins/dp/1931018480/ref=pd_bxgy_b_text_b/103-7904786-6842205

"Answering the New Atheism: Dismantling Dawkins' Case Against God" by Scott Hahn and Benjamin Wiker




The essential book for dismantling Richard Dawkins' atheistic agenda. Scott Hahn and Benjamin Wiker collaborate to debunk Dawkins' theories and show how inconsistent and illogical his conclusions truly are. This is the definitive book for college students or faithful Christians hoping to answer Dawkins' claims and assert the logic and beauty of their faith.


---
http://www.kingsway.co.uk/Shop/Products/97313/Home/Books/Living_the_Life/Family_Social_Issues/Cultural_Issues/Is_God_A_Delusion.aspx
Nicky Gumbel, the vicar of Holy Trinity Brompton and the man who heads up the Alpha ministry, takes a look at yet another question which seems to be exercising many people in his latest book, Is God A Delusion?
Gumbel uses his legal training to address issues such as "Has Science Disproved God?" and whether faith is 'irrational'. He has written the book as a result of attending a meeting at which Richard Dawkins, A C Grayling and Christopher Hitchens spoke in favour of a proposition that 'We'd be better off without religion'. Nicky Gumbel says, "There was clearly a huge interest in these issues, so I began to read their books and some of the responses."
This is a short book and so does not delve too deeply into all aspects, but Nicky Gumbel sets out the evidence clearly and allows the reader to draw their own conclusions.
The book also includes
A Theologian's Perspective
written by Dr Graham Tomlin, head of St. Paul's Theological Centre, as a response to Dawkins from a theologian's viewpoint, which adds to the material already available.
Read 'A Theologian's Perspective' from this book here (PDF)
also at:

http://richarddawkins.net/article,3215,Dawkins-a-theologians-perspective,Graham-Tomlin

---


PAST FLEAS:

God, Doubt and Dawkins: Reform Rabbis Respond to the God Delusion by Jonathan A Romain

http://www.amazon.com/God-Doubt-Dawkins-Jonathan-Romain/dp/0947884173/ref=sr_1_1?ie=UTF8&s=books&qid=1218864458&sr=1-1
Religions are reeling from the ferocious assault by Richard Dawkins in his book The God Delusion. But what has led to such a high profile attack? How does Judaism fare? Are the criticisms justified? How do Jews who take their faith seriously yet also value intelligent debate respond to the accusations that Dawkins hurls at them?
Twelve leading Reform personalities have risen to the Dawkins challenge. They offer a robust defence of the many good features that faith offers without flinching from the unacceptable aspects. They will probably not convert Dawkins, but they may well stop him converting others. (thanks to
Old Sarum
)
---
http://www.amazon.com/Atheism-Remix-Christian-Confronts-Atheists/dp/1433504979/ref=pd_bbs_sr_1?ie=UTF8&s=books&qid=1217371837&sr=1-1

Atheism Remix: A Christian Confronts the New Atheists
A leading Christian intellectual explores the newest strain of atheism, its foremost thinkers, the cultural conditions that have bred it, and how Christians should respond.
Something has changed in American culture. What for years was a little-regarded belief system—atheism—has now gained a large, and increasing, national hearing through the writings of "new atheists" such as Dawkins, Dennett, Harris, and Hitchens.
Wanting to both inform and equip serious-minded Christians regarding this cultural shift, R. Albert Mohler Jr. explores the environment that has bred the "new atheism" while also introducing readers to the movement's four leading thinkers and the contours of their arguments. Mohler—deemed "the reigning intellectual of the evangelical movement in the US" by Time magazine—then uses this foundation to pinpoint eight major distinctives that make the new atheism new, and to discuss the future of Christianity in relationship to it.
At school and in the community, Christians are sure to encounter people who have been shaped by this strain of atheism. Here is keen insight that any believer can use to understand and challenge the new atheists.
http://thedelusiondelusion.com/
A strange new flea book?
http://www.xulonpress.com/book_detail.php?id=5390

Dawkins' Dilemmas — thought-provoking and intriguing Will Richard Dawkins' atheism grip millions — fade — or stir lingering doubts? Baffled or intrigued by his passionate arguments? With this book, you will be able to: Find out how biblical Christianity uncovers Dawkins' dilemmas. Discover why atheism does not rest on rational foundations. Use a fascinating approach that helps you to weigh up Dawkins' beliefs — As you explore Dawkins' dilemmas — • The dilemma of a flawed world • The dilemma of humanity • The dilemma of atheism and probability • An intriguing chapter on: SETI — the search for meaning • The dilemma of the ultimate paradox And take a fresh look at the gospel of Christ.
http://www.amazon.co.uk/Why-There-Almost-Certainly-God/dp/0745953301
and
http://shop.ekklesia.co.uk/christian-bookshop/why_there_almost_certainly_is_a_god_1212372.html
Why There Almost Certainly Is a God: Doubting Dawkins
by Keith Ward
Synopsis
Richard Dawkins recently claimed that 'no theologian has ever produced a satisfactory response to his arguments'. Well-known broadcaster and author Keith Ward is one of Britain's foremost philosopher-theologians. This is his response. Ward welcomes all comers into philosophy's world of clear definitions, sharp arguments, and diverse conclusions. But when Dawkins enters this world, his passion tends to get the better of him, and he descends into stereotyping, pastiche, and mockery. In this stimulating and thought-provoking philosophical challenge, Ward demonstrates not only how Dawkins' arguments are flawed, but that a perfectly rational case can be made that there, almost certainly, is a God.
---
The Devil's Delusion: Atheism and Its Scientific Pretensions
http://www.amazon.com/Devils-Delusion-Atheism-Scientific-Pretensions/dp/0307396266/ref=pd_bxgy_b_text_b

---
http://www.amazon.com/GOD-QUESTION-Response-God-Delusion/dp/B0013VHC0G/ref=sr_1_5?ie=UTF8&s=digital-text&qid=1205351261&sr=1-5
[No Image Available]
'The God Question: A Response to The God Delusion' by Rev. John Edgell
---
The Delusion of Disbelief: Why the New Atheism is a Threat to Your Life, Liberty, and Pursuit of Happiness
http://www.amazon.com/Delusion-Disbelief-Atheism-Liberty-Happiness/dp/1414317085/ref=sr_1_1?ie=UTF8&s=books&qid=1203958557&sr=8-1

http://www.lulu.com/content/605271
"The Confutation of Dawkins' The God Delusion" by Malcolm McLean

Richard Dawkins' book is systematically refuted. Dawkins' arguments are analysed, and invariably found wanting. However the confutation is charitable in tone, and sometimes allows that Dawkins may have a constructive point. A must read for anyone who has read "The God Delusion".
http://www.mobipocket.com/en/eBooks/BookDetails.asp?BookID=35163&Origine=1718

http://www.cokesbury.com/forms/ProductDetail.aspx?pid=654057

Read an interview with the latest flea author John Haught at Salon.com here
(thanks to
Richard Prins
)
PZ Myers has done a nice breakdown of the above interview here
"Challenging Richard Dawkins: Why Richard Dawkins is Wrong About God"

God Is No Delusion: A Refutation of Richard Dawkins
UPDATE:
This looks like it is actually the SAME book as you see in Richard's flea-orbit below titled "A Catholic Replies to Professor Dawkins (UK)" (they have the same blurb). This must be a case of them trying to hype it up for the US market.
And some general fleas:

The New Atheist Crusaders and Their Unholy Grail: The Misguided Quest to Destroy Your Faith
by Becky Garrison
The Truth Behind the New Atheism: Responding to the Emerging Challenges to God and Christianity

"The New Atheists: The Twilight of Reason & The War on Religion"
by Tina Beattie
---
Tweet
RELATED CONTENT
Yet another flea - Richard Dawkins' God...
Klaus Nürnberger - B&N Nook 48 Comments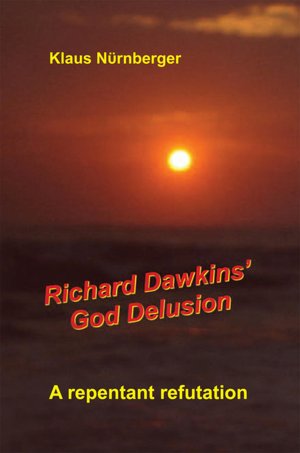 Yet another flea - Richard Dawkins' God Delusion [NOOK Book]
- - - 79 Comments
MORE BY RICHARDDAWKINS.NET