Ted Haggard, mega-church founder felled by sex scandal, returns to pulpit
By PAUL HARRIS - GUARDIAN.CO.UK
Updated: Sun, 06 Jun 2010 19:50:28 UTC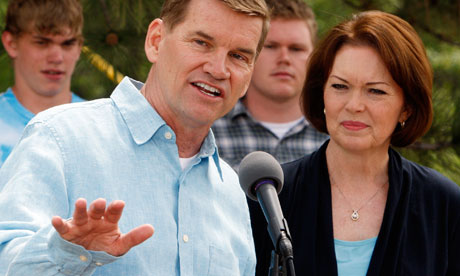 Ted Haggard, with his wife Gayle at his side, discusses their new church. Photograph: Ed Andrieski/AP
Ted Haggard is back and about to start preaching again. Haggard, once America's leading evangelical pastor, who was brought down and removed from his own mega-church after admitting to a gay sex scandal, has set up a new ministry and will hold the first service in his new church today.
His wife, Gayle, who has stood by him throughout his troubles, will be the church's co-pastor.
"We realised that I am a sinner and she is a saint, but that way we do have a very broad appeal," he joked in an interview from his home in Colorado Springs, a city that has been described as the Vatican of America's evangelical movement. "I feel we have moved past the scandal. We have forgiveness. It is a second chance," he said.
For Haggard, the formation of a new church – to be called St James – marks the beginning of a remarkable comeback and the latest stage of a rollercoaster ride through evangelical power.
... Continue reading
---
Tweet
RELATED CONTENT
Fox News and Bill O'Reilly Accused of...
Matthew Hendley - New Times 64 Comments
Bishop Magee lied and deliberately...
Michael Nugent - www.michaelnugent.com 55 Comments
How can we believe, without corroboration, anything that members of the Irish Catholic Hierarchy say in cases where it is in their interest to mislead us? That is surely the central question that arises from the Cloyne Report into the handling of allegations of sexual abuse of children by priests in the Catholic Diocese of Cloyne in Ireland, especially when seen alongside the previous revelation that Archbishop Desmond Connell of Dublin was happy to deliberately mislead people by a process that he described as 'mental reservation'.
India would have been a better place...
Sanal Edamaruku - NewHumanist.org.uk 23 Comments
Sathya Sai Baba caused great damage to India. His irresponsible political patrons corrupted the political culture of India. Encouraged by the clout of Sathya Sai Baba, a new clan of miracle mongers imitated him. India would have been a better place without Sathya Sai Baba.
MORE BY PAUL HARRIS
Fight the good fight: Blair v Hitchens
Paul Harris - Observer 136 Comments