Galápagos giant tortoise saved from extinction by breeding programme
By RORY CARROLL - GUARDIAN.CO.UK
Added: Mon, 28 Jun 2010 15:08:52 UTC
Thanks to Chris Sargent for the link
Original link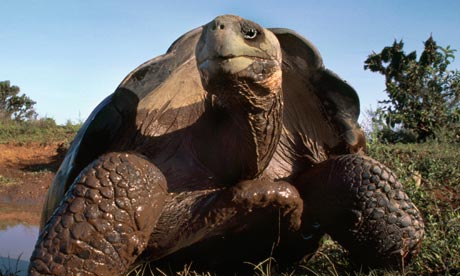 Giant tortoise numbers on the island of Española have risen to about 1,500 from a low of 15 in the 1970s. Photograph: Frans Lanting/Corbis
Scientists have successfully reintroduced giant tortoises to a Galápagos island where the species once teetered on extinction, raising conservation hopes for the rest of the archipelago.
A survey of Española, the southernmost island, confirmed last week that a pioneering effort to repatriate giant tortoise hatchlings has produced a thriving, reproducing population of more than 1,500 specimens. The project aims to turn the clock back to before human beings all but wiped out a species that helped to inspire Charles Darwin's theories on evolution and natural selection. "It's a great end to a sad story," said Johannah Barry, president of Galápagos Conservancy, a Virginia-based organisation which partly funded the study.
Preliminary results of the survey, conducted over 10 days by 24 wardens from the Galápagos national park authority, found that albatross, cactus and woody vegetation had also partly recovered, restoring the island to something akin to what Darwin saw two centuries ago.
A giant tortoise (Geochelone hoodensis) population which in the 1970s had dropped to about 15 was once again a common sight on the island, said Washington Tapia, a park official who led the survey, which used electronic devices to track the animals. "During the expedition we found nests, recently hatched tortoises, and adults born on Española, which indicates that the tortoise population is doing well."
... Continue reading
---
Tweet
MORE BY RORY CARROLL
Chilean miners: Rival churches claim...
Rory Carroll - The Guardian 125 Comments
The three Christian denominations have each claimed credit for what they say is divine intervention in the survival – and expected imminent rescue – of the 33 men who have spent 67 days beneath the earth.