Thank goodness for Christopher Hitchens!
By DANIEL C. DENNETT - THE WASHINGTON POST
Added: Thu, 23 Sep 2010 21:24:48 UTC
Thanks to Catalin for the link

Could it be that some of the Catholics praying for Christopher Hitchens have heard about the Harvard study of prayer and are hoping to provide some further evidence of its one surprising result? In the 2006 study organized by Herbert Benson of Harvard Medical School, the only large-scale and well-controlled scientific examination of the efficaciousness of prayers for hospital patients, there were no statistically significant effects--except for a small negative effect, in which people who knew they were being prayed for did, on average, somewhat worse than the others! So praying for Hitch might be counterproductive. Why might this curious effect exist?
Sports fans and opera buffs know that their sheer presence in the audience, swelling the number of those paying attention, has an effect on the performers--so long as the performers know they are there. Enthusiastic applause boosts moral--and usually that in turn boosts performance, but occasionally, it can lead to "choking" (almost literally in the case of opera singers). People can be unnerved by too much attention, too many anxious people trying to beam too much goodwill by the sheer force of their eagerness. But I suspect that if careful studies have been done of fan "prayer" --they may have, but if so, I don't know them--the net average effect will have been shown to be positive: when people are "rooting for you," you do better. Certainly that is what athletes and opera singers believe; they love a large following. And I'm happy to assume that this is what Catholics believe as well.
When I was in a similar medical crisis four years ago, I wrote a piece ["Thank Goodness!"] about my gratitude to the doctors (not to God) for saving my life, and said I was forgiving those friends of mine who had the courage to tell me that they were praying for me. I resisted the temptation to respond "Thanks, I appreciate it, but did you also sacrifice a goat?"
... continue reading
---
Tweet
RELATED CONTENT
Richard Dawkins & Lawrence Krauss...
- - YouTube - Atheist Foundation 43 Comments
Richard Dawkins & Lawrence Krauss Tribute to Christopher Hitchens - 2012 Global Atheist Convention
Orwell prize: Christopher Hitchens...
John Dugdale - The Guardian 4 Comments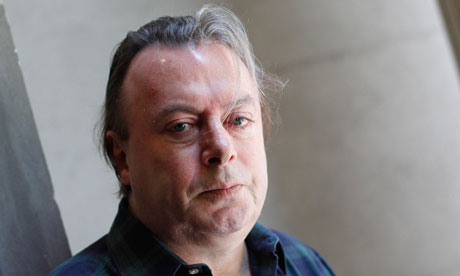 Orwell prize: Christopher Hitchens honoured with memorial award
Heaven Can Wait - Was I wrong about the...
Christopher Hitchens, as told to Art... 49 Comments

Heaven Can Wait - Was I wrong about the afterlife? No.
Appeal to Freethinkers to Fight Cancer
- - YouTube - ScottBurdickArt 14 Comments

Appeal to Freethinkers to Fight Cancer
Stephen Fry & friends on the life,...
- - YouTube - iqsquared 33 Comments
Stephen Fry & friends on the life, loves and hates of Christopher Hitchens - IQ2 talks
Christopher Hitchens - Free Inquiry 52 Comments
Why should he sit still and see a valued and precious discipline being insulted, even threatened with not being taught?
MORE BY DANIEL C. DENNETT