[UPDATE] - NASA-Funded Research Discovers Life Built With Toxic Chemical
By NASA - NASA WEBSITE
Updated: Tue, 21 Dec 2010 10:57:43 UTC
UPDATE 21 Dec
Science and Arsenic Fool's Gold: A Toxic Broth, by Antoine Danchin
Making stable informational polymers in water at 300K limits chemical variations within extremely narrow borders. This is why the basic atoms of life — those that are found in meteoritic molecules — are hydrogen, carbon, nitrogen and oxygen. In these same conditions, management of energy to support life used the unique property of phosphorus to make energy-rich metastable phosphoester or polyphosphate bonds. Analysis of the genome of arsenic-loving bacteria suggests that arsenic can nevertheless be accumulated in bacteria via formation of innocuous derivatives that may decorate inert (mostly non informational) biopolymers. However, arsenic cannot replace phosphorus in this core function of life. This has been previously firmly established by numerous biochemical experiments. Likewise, recent claims by Wolfe-Simon et al. (2010) that this replacement could happen, have not been experimentally verified, and are based on experiments lacking proper controls; the purpose of which was to substantiate these beliefs. However, the authors are not sole to be blamed, but the journals that try to maintain their high impact factors at all cost, publishing articles that should never have reached the public.
UPDATE 7-Dec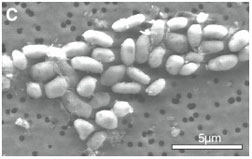 "This Paper Should Not Have Been Published" - Slate
On Thursday, Dec. 2, Rosie Redfield sat down to read a new paper called, "A Bacterium That Can Grow by Using Arsenic Instead of Phosphorus." Despite its innocuous title, the paper had great ambitions. Every living thing that scientists have ever studied uses phosphorus to build the backbone of its DNA. In the new paper, NASA-funded scientists described a microbe that could use arsenic instead. If the authors of the paper were right, we would have to expand our notions of what forms life can take.
Redfield, a microbiology professor at the University of British Columbia, had been hearing rumors about the papers for days beforehand. On Monday, NASA released a Sphinxlike press release: "NASA will hold a news conference at 2 p.m. EST on Thursday, Dec. 2, to discuss an astrobiology finding that will impact the search for evidence of extraterrestrial life." Like a virulent strain of bacteria, speculation exploded over the next three days. "Did NASA Discover Life on One of Saturn's Moons?" asked Gawker, a Web site that does not often ask questions about astrobiology.
... Read more
Arsenic-associated bacteria (NASA's claims) - RRResearch
Wolfe-Simon F, Blum JS, Kulp TR, Gordon GW, Hoeft SE, Pett-Ridge J, Stolz JF, Webb SM, Weber PK, Davies PC, Anbar AD, & Oremland RS (2010). A Bacterium That Can Grow by Using Arsenic Instead of Phosphorus. Science (New York, N.Y.) PMID: 21127214
Here's a detailed review of the new paper from NASA claiming to have isolated a bacterium that substitutes arsenic for phosphorus on its macromolecules and metabolites. (Wolfe-Simon et al. 2010, A Bacterium That Can Grow by Using Arsenic Instead of Phosphorus.) NASA's shameful analysis of the alleged bacteria in the Mars meteorite made me very suspicious of their microbiology, an attitude that's only strengthened by my reading of this paper. Basically, it doesn't present ANY convincing evidence that arsenic has been incorporated into DNA (or any other biological molecule).
... Read more
---
UPDATE - YouTube - TheRationalizer
---
NASA-funded astrobiology research has changed the fundamental knowledge about what comprises all known life on Earth.
Researchers conducting tests in the harsh environment of Mono Lake in California have discovered the first known microorganism on Earth able to thrive and reproduce using the toxic chemical arsenic. The microorganism substitutes arsenic for phosphorus in its cell components.
"The definition of life has just expanded," said Ed Weiler, NASA's associate administrator for the Science Mission Directorate at the agency's Headquarters in Washington. "As we pursue our efforts to seek signs of life in the solar system, we have to think more broadly, more diversely and consider life as we do not know it."
This finding of an alternative biochemistry makeup will alter biology textbooks and expand the scope of the search for life beyond Earth. The research is published in this week's edition of Science Express.
Carbon, hydrogen, nitrogen, oxygen, phosphorus and sulfur are the six basic building blocks of all known forms of life on Earth. Phosphorus is part of the chemical backbone of DNA and RNA, the structures that carry genetic instructions for life, and is considered an essential element for all living cells.
Phosphorus is a central component of the energy-carrying molecule in all cells (adenosine triphosphate) and also the phospholipids that form all cell membranes. Arsenic, which is chemically similar to phosphorus, is poisonous for most life on Earth. Arsenic disrupts metabolic pathways because chemically it behaves similarly to phosphate.
"We know that some microbes can breathe arsenic, but what we've found is a microbe doing something new -- building parts of itself out of arsenic," said Felisa Wolfe-Simon, a NASA Astrobiology Research Fellow in residence at the U.S. Geological Survey in Menlo Park, Calif., and the research team's lead scientist. "If something here on Earth can do something so unexpected, what else can life do that we haven't seen yet?"
---
Tweet
RELATED CONTENT
Apoptosis and Signal Transduction
Drew Berry - YouTube - dprjones 15 Comments
An exploration of what a signal transduction would 'look like' if you were to follow the chain of molecular events along a pathway
Proton-based transistor could let...
- - Physorg.com 14 Comments
Scientists Take First Step Towards...
- - Science Daily 22 Comments
Researchers led by Professor Lee Cronin at the University of Glasgow have developed inorganic chemical cells (iCHELLs), which show redox activity, chirality, as well as selective permeability towards small molecules, and which can be nested within one another, potentially allowing stepwise reactions to occur in sequence within the cell.
Oxygen finally spotted in space
- - BBC News - Science and Environment 8 Comments
While single atoms of oxygen have been found alone or incorporated into other molecules, the oxygen molecule - the one we breathe - had never been seen [in space].
MORE BY NASA
NASA's Fermi Telescope Finds Giant...
NASA - NASA 98 Comments