Christmas should be for everyone, atheists included
By ALOM SHAHA - GUARDIAN.CO.UK
Added: Sat, 25 Dec 2010 03:49:39 UTC
Thanks to Miranda for the link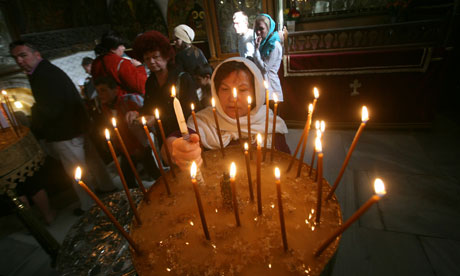 A woman lights a candle in the Church of the Nativity in Bethlehem. Photograph: Musa Al-Shaer/AFP/Getty Images
I love Christmas. Despite being an atheist who was brought up as a Muslim, Christmas is a religious festival I have totally embraced, midnight mass and all. I have loved it since I first encountered it at primary school, where we seemed to spend weeks preparing for this wonderful, magical day – we'd start singing carols in assembly in the mornings, proper lessons would be replaced with making paper chains and other decorations and there would be lots of rehearsing, as well as making props and costumes for the nativity.
"Multicultural" policies were in their infancy and, as far as I recollect, there was no sense that making such a big deal out of Christmas might not be an entirely appropriate thing to do when a significant proportion of the school's population were not Christians. Not aware that my cultural sensitivities should have been hurt, I lapped up everything to do with Christmas. It was brilliant – on the last day of term there would be a special lunch, we'd get to pull crackers and wear hats and play musical chairs and have the most fun ever. Then the holidays would arrive and everybody else would go away to decorate their trees, have an even better Christmas dinner than the one at school, and get really cool presents, while us Bangladeshis had to console ourselves with the fact that there would be lots of good stuff on TV for a couple of weeks.
I know I wasn't the only kid from a Muslim family at my school to wish I could experience Christmas in its full glory; now, as an adult free to make my own choices, I can. Like many atheists, I will be sitting down with family and friends for a special meal on 25 December. We will exchange presents and sit around feeling warm and fuzzy about each other, looking upon the world in general with a little more hope and forgiveness than usual.
... Read more
---
Tweet
RELATED CONTENT