The enigma of America's secular roots
By SAM HASELBY - GUARDIAN.CO.UK
Added: Tue, 04 Jan 2011 01:38:45 UTC
Thanks to LWS for the link
Joel Barlow's disavowal of Christianity as the basis for US government in the 1797 treaty of Tripoli is a mystery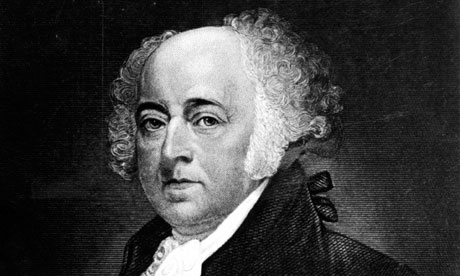 John Adams, who served as US president between 1797 to 1801, signed the treaty of Tripoli without comment. Photograph: Time Life Pictures/Mansell/Getty Images
On 3 January 1797, 214 years ago, Joel Barlow, an American poet pressed into service as the US consul-general in Algiers, drafted and signed the treaty of Tripoli. Its article 11 states: "The government of the United States of America is not, in any sense, founded on the Christian religion." In 1797, to those who had drafted and signed the declaration of independence and the constitution, it seemed a statement of plain truth. American newspapers reprinted the treaty of Tripoli without igniting public debate. The US Senate approved it unanimously and without discussion. President John Adams signed it without comment.
In the past two generations, a "Christian nation" movement in the US has made article 11 of the otherwise-forgotten treaty of Tripoli's an occasional point of debate. In a sense, article 11 is a bit of an enigma. Why was the disavowal of Christianity included in the treaty? Did Barlow intend it to mollify the Bey of Algiers and other Muslim leaders of the Barbary states, whose piracy exerted an expensive toll on US shipping in the Mediterranean? Was it meant to rally European revolutionaries, who had become Barlow's friends and allies? Did it aim to consolidate the authority of Thomas Jefferson and other secularists in America, whose achievements Barlow prized? It is not clear, and Barlow never explained.
It may not be clear why Barlow put article 11 in the treaty of Tripoli, but it is clear that he had once had religion, and lost it. Following his 1778 graduation from Yale, he entered the ministry and, in 1780, became a chaplain in the revolutionary army. In 1784, the Connecticut general assembly even made Barlow the state of Connecticut's official translator of the Book of Psalms. In 1792, however, after four years in London and Paris, he published Advice to the Privileged Orders, a revolutionary work which, basically, offered members of the European aristocracy their lives in exchange for their surrender.
...
Read more
---
Tweet
RELATED CONTENT
MORE BY SAM HASELBY