[UPDATE] The Ascent of Man by Jacob Bronowski - book review (and Foreword by Richard Dawkins)
By TIM RADFORD - GUARDIAN.CO.UK
Updated: Sun, 17 Apr 2011 03:56:09 UTC
Tim Radford finds Bronowski's history of humanity, The Ascent of Man – reissued with a foreword by Richard Dawkins – as compelling as ever.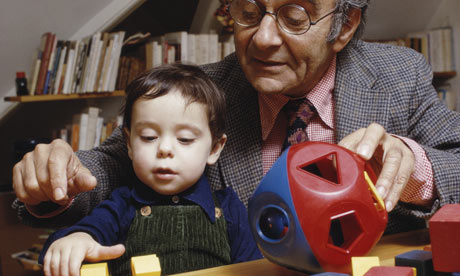 In The Ascent of Man, Bronowski writes: 'We are nature's unique experiment to make the rational intelligence prove itself sounder than the reflex. Knowledge is our destiny.' Photograph: Tony Evans/Getty Images
Fame has a momentum all of its own, but that does not explain the enduring recognition accorded to Jacob Bronowski. In 1972 he was a little-known mathematician who knew a lot about the poet William Blake. In 1973, thanks to a 13-part television series on BBC2, he had become one of the world's most celebrated intellectuals, and by the late summer of 1974 he was dead.
The book spun from the television series went on to sell millions. Now, 38 years later, the BBC has reissued it, with a foreword by Richard Dawkins but otherwise unchanged. In the intervening years, a hundred popularisers, practitioners and science historians have tried to tell much the same story, each time with more up-to-date information and a more acute sense of contemporary awareness. So The Ascent of Man should have a decidedly dated feel.
But it doesn't – not, at least, to this reader. It proceeds briskly through what is by now the standard science-oriented western European version of human history – the Palaeolithic, the dawn of civilisation, the Greeks and the Romans, the Islamic empire, Galileo, Newton, the Industrial Revolution, Mendeleev, Pasteur, Darwin, Einstein and the nuclear age – and it still seems as good as any other history of discovery, and a great deal sharper and more readable than some.
. . .
In the course of the last chapter, he reminds us that from the printed book comes "the democracy of the intellect" and that humans are primarily ethical creatures. These are the words of a man who studied the devastation of Nagasaki.
All our science, all our endeavour, is for something. "We are nature's unique experiment to make the rational intelligence prove itself sounder than the reflex. Knowledge is our destiny." This is not just a book about science. It is a book about why science matters, and what it really tells us. That is not a message likely to go out of date in a few decades.
And here is Richard's Foreword to the new printing of the Bronowski book:-
"Last renaissance man" has become a cliché, but we forgive a cliché on the rare occasion when it is true. Certainly it is hard to think of a better candidate for the accolade than Jacob Bronowski. You'll find other scientists who can parade a deep parallel knowledge of the arts, or – in one actual case – combine eminence in science with pre-eminence in Chinese history. But who more than Bronowski weaves a deep knowledge of history, art, cultural anthropology, literature and philosophy into one seamless cloth with his science? And does it lightly, effortlessly, never sinking to pretension? Bronowski uses the English language – not his first language, which makes it all the more remarkable – as a painter uses his brush, with mastery all the way from broad canvas to exquisite miniature.
Inspired by the Mona Lisa, here is what he has to say about arguably the first and greatest renaissance man, whose drawing of the baby in the womb introduced the television version of The Ascent of Man.
Man is unique not because he does science, and he is unique not because he does art, but because science and art equally are expressions of his marvellous plasticity of mind. And the Mona Lisa is a very good example, because after all what did Leonardo do for much of his life? He drew anatomical pictures, such as the baby in the womb in the Royal Collection at Windsor. And the brain and the baby is exactly where the plasticity of human behaviour begins.
How deftly Bronowski segues from Leonardo's drawing to the Taung baby: type-specimen of our ancestral genus Australopithecus, victim – as we now know, though Bronowski didn't when he performed his mathematical analysis on the tiny skull – of a giant eagle two million years ago.
There's a quotable aphorism on every page of this book, something to treasure, something to stick on your door for all to see, an epitaph, perhaps, for the gravestone of a great scientist. "Knowledge . . . is an unending adventure at the edge of uncertainty." Uplifting? Yes. Inspiring? Without doubt. But read it in context and it is shocking. The grave turns out to belong to an entire tradition of European scholarship, destroyed by Hitler and his allies almost overnight:
Europe was no longer hospitable to the imagination – and not just the scientific imagination. A whole conception of culture was in retreat: the conception that human knowledge is personal and responsible, an unending adventure at the edge of uncertainty. Silence fell, as after the trial of Galileo. The great men went out into a threatened world. Max Born. Erwin Schrödinger. Albert Einstein. Sigmund Freud. Thomas Mann. Bertolt Brecht. Arturo Toscanini. Bruno Walter. Marc Chagall.
Words so powerful don't need a raised voice or ostentatious tears. Bronowski's words gained impact from his calm, humane, understated tones, with the engagingly rolled Rs as he looked straight into the camera, spectacles flashing like beacons in the dark.
That was a rare dark passage in a book that is mostly filled with light, and genuinely uplifting. You can hear Bronowski's distinctive voice through this book, and you can see his expressive hand chopping down to cut through complexity and make a point. He stands before a great sculpture, Henry Moore's The Knife Edge, to tell us,
The hand is the cutting edge of the mind. Civilisation is not a collection of finished artefacts, it is the elaboration of processes. In the end, the march of man is the refinement of the hand in action. The most powerful drive in the ascent of man is his pleasure in his own skill. He loves to do what he does well and, having done it well, he loves to do it better. You see it in his science. You see it in the magnificence with which he carves and builds, the loving care, the gaiety, the effrontery. The monuments are supposed to commemorate kings and religions, heroes, dogmas, but in the end the man they commemorate is the builder.
Bronowski was a rationalist and an iconoclast. He was not content to bask in the achievements of science but sought to provoke, to pique, to needle. That is the essence of science: ask an impertinent question, and you are on the way to a pertinent answer.
That applies not just to science but to all learning, epitomised, for Bronowski by one of the world's oldest and greatest universities – in Germany as it happens:
The University is a Mecca to which students come with something less than perfect faith. It is important that students bring a certain ragamuffin, barefoot irreverence to their studies; they are not here to worship what is known but to question it.
Bronowski treated the magical speculations of primitive man with sympathy and understanding, but in the end
. . . magic is only a word, not an answer. In itself, magic is a word which explains nothing.
There is magic – the right kind of magic – in science. There is poetry too, and magical poetry on every page of this book. Science is the poetry of reality. If he didn't say that, it is the kind of thing he might have said, articulate polymath and gentle sage, whose wisdom and intelligence symbolises all that is best in the ascent of man.
---
Purchasing via the Amazon links below will direct a percentage of the proceeds to RDFRS. Note that this is a BBC book and both options below will ship from the UK. Shipping times and costs to the US vary depending on the supplier
Amazon.com
Amazon.co.uk
---
Tweet
RELATED CONTENT