Stephen Hawking: 'There is no heaven; it's a fairy story'
By IAN SAMPLE - GUARDIAN.CO.UK
Added: Mon, 16 May 2011 03:02:50 UTC
In an exclusive interview with the Guardian, the cosmologist shares his thoughts on death, M-theory, human purpose and our chance existence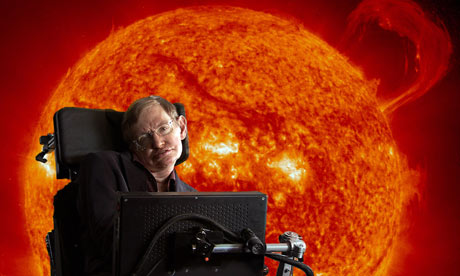 Stephen Hawking dismisses belief in God in an exclusive interview with the Guardian. Photograph: Solar & Heliospheric Observatory/Discovery Channel
A belief that heaven or an afterlife awaits us is a "fairy story" for people afraid of death, Stephen Hawking has said.
In a dismissal that underlines his firm rejection of religious comforts, Britain's most eminent scientist said there was nothing beyond the moment when the brain flickers for the final time.
Hawking, who was diagnosed with motor neurone disease at the age of 21, shares his thoughts on death, human purpose and our chance existence in an exclusive interview with the Guardian today.
The incurable illness was expected to kill Hawking within a few years of its symptoms arising, an outlook that turned the young scientist to Wagner, but ultimately led him to enjoy life more, he has said, despite the cloud hanging over his future.
"I have lived with the prospect of an early death for the last 49 years. I'm not afraid of death, but I'm in no hurry to die. I have so much I want to do first," he said.
Read more
---
Tweet
RELATED CONTENT
Why Some Physicists Bet Against the...
Robert Wright - The Atlantic Comments
Hawking wasn't available to answer that question, but I did manage to have a long conversation with an American physicist who had also doubted the existence of the Higgs--Lawrence Krauss
A Blip That Speaks of Our Place in the...
Lawrence M. Krauss - New York Times Comments
A Blip That Speaks of Our Place in the Universe
How the Higgs Boson Posits a New Story...
Lawrence M. Krauss - The Daily Beast Comments
How the Higgs Boson Posits a New Story of our Creation
An idea thought up on a rainy weekend
Johnathan Brown - The Independent Comments
As an atheist with no desire to upset believers, Professor Peter Higgs has always hated the idea of a God particle. He has never been keen on the nomenclature of the Higgs boson either – referring to it as "the particle named after me" on the rare occasions he gives an interview.
"It's a boson:" Higgs quest bears new...
Chris Wickham - Reuters 0 Comments
(Reuters) - Scientists at Europe's CERN research centre have found a new subatomic particle, a basic building block of the universe, which appears to be the boson imagined and named half a century ago by theoretical physicist Peter Higgs.
Lawrence Krauss - Slate Comments
MORE BY IAN SAMPLE