Ireland's poisonous blasphemy debate
By PADRAIG REIDY - GUARDIAN.CO.UK
Added: Sat, 25 Jun 2011 13:54:01 UTC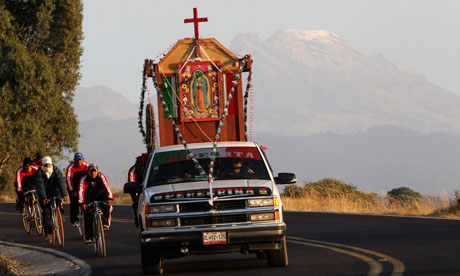 Alma Lopez's Our Lady makes use of popular images, such as this, of the Virgin of Guadeloupe. Photograph: Reuters
University College, Cork, is the jewel in the crown on the majestic head of Cork city. The limestone Victorian quad, the ornate Honan chapel and the state-of-the-art Tyndall National Institute (recently visited by Queen Elizabeth) are all sources of pride for an already proud people.
Today the university's department of Hispanic studies hosts the catchily titled "Transitions and Continuities in Contemporary Chicano/Chicana culture". What sounds like a niche event has gained notoriety because of an art exhibition taking place as part of the seminar.
In Our Lady and Other Queer Santas, Chicana artist Alma Lopez will exhibit her picture Our Lady, a digital pastiche of Our Lady of Guadeloupe, a 16th-century Peruvian manifestation of the Virgin Mary. More precisely, it is, in Lopez's words, "an image of a 40-year-old woman with her belly and legs exposed standing on a black crescent moon held by a bare-breasted female butterfly angel". The Madonna in a bikini, basically. So an obscure piece by an artist unknown in this part of the world is being exhibited as part of an academic conference on a specialist topic. You're wondering where this is going, aren't you?
On last Friday's Liveline, one of Ireland's most popular radio shows, presenter Joe Duffy was flooded with calls from irate Catholics mortified by this "blasphemous" artwork. One recounted the story of Our Lady of Guadeloupe and then told how "Microsoft and Nasa" had recently used a special microscope which had proved the miraculous nature of the image of Mary that had appeared on the poncho of Juan Diego. Their calls for bans and protests were countered by Michael Nugent of Atheist Ireland, who later commented: "It was like discussing the rules of quidditch with people who believe Harry Potter was a documentary."
Read more
---
Tweet
RELATED CONTENT
MORE BY PADRAIG REIDY