BBC gives too much weight to fringe views on issues such as climate change
By IAN SAMPLE - GUARDIAN.CO.UK
Added: Thu, 21 Jul 2011 12:46:04 UTC
Thanks to weavehole for the link
A review of the BBC's science coverage has concluded that its drive for impartiality lends too much credence to maverick views on MMR, climate change and GM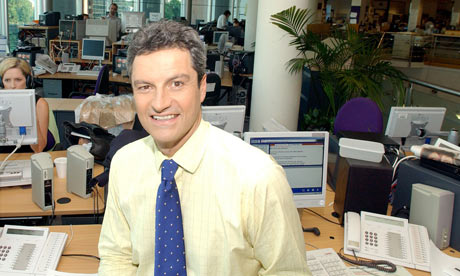 Gavin Esler was criticised in the review for being soft on climate sceptics in an interview on BBC2's Newsnight. Photograph: PA

The BBC is to revamp its science coverage after an independent review highlighted weaknesses and concluded that journalists boosted the apparent controversy of scientific news stories such as climate change, GM crops and the MMR vaccine by giving too much weight to fringe scientific viewpoints.
The wide-ranging review found the network's science reporting was generally of high quality, and praised the BBC for its breadth, depth and accuracy, but urged the broadcaster to tackle several areas of concern.
Commissioned last year to assess impartiality and accuracy in BBC science coverage across television, radio and the internet, the review said the network was at times so determined to be impartial that it put fringe views on a par with well-established fact: a strategy that made some scientific debates appear more controversial than they were.
The criticism was particularly relevant to stories on issues such as global warming, GM and the MMR vaccine, where minority views were sometimes given equal weighting to broad scientific consensus, creating what the report describes as "false balance".
Read more
---
Tweet
RELATED CONTENT
MORE BY IAN SAMPLE