[UPDATE - UK Media Coverage]NYC ATHEISTS JOIN WITH AMERICAN ATHEISTS in LAW SUIT
By - - E-MAIL
Updated: Thu, 28 Jul 2011 15:04:11 UTC
Atheists ask judge to order removal of 9/11 memorial cross
Beam found amid 9/11 wreckage blessed by priest and moved to Ground Zero memorial, which atheists say should remain neutral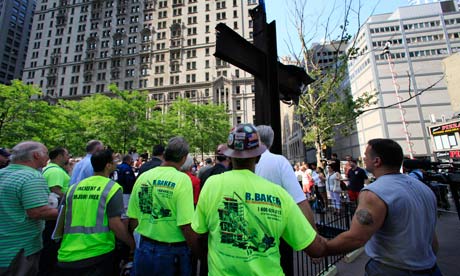 World Trade Centre construction workers hold hands during a prayer at a ceremony for the 9/11 cross. Photograph: Mark Lennihan/AP

A US atheist group has filed a lawsuit asking a judge to order the removal of a cross-shaped steel beam at the 9/11 memorial in New York or request that other religions and nonreligious views be equally represented.
The cross was found amid the wreckage from the terrorist attacks by a construction worker who said he stumbled onto a miracle. It was last weekend moved to the Ground Zero memorial – due to open on the 10th anniversary of the attacks in September – after a blessing by a Catholic priest. It is to become part of the permanent collection of a 9/11 museum opening next year.
Dave Silverman, president of American Atheists, the group which filed the lawsuit, said its main concern was equality.
He said 9/11 was an American tragedy, "but the Christian community has secured sole representation in the memorial for itself at the exclusion of other religions and philosophies."
Read more
---
Atheists Fight Move of I-Beam 'Cross' to Ground Zero
In Lawsuit, Cite Constitutional Rights and
Church's Disdain for Non-Christians Who Died on 9/11
American Atheists, the prominent nationwide Atheist organization, has filed a law suit in New York's Supreme Court to stop the so-called Ground Zero "cross" from being permanently displayed at the 9/11 Memorial Museum.
The 17-foot tall piece of i-beam debris, one of thousands of t-joints in the World Trade Center's construction, was found in the rubble of 9/11 and then dubbed by a priest from St. Peter's church as "a message from God."
In 2006, after complaints from New York City Atheists, an affiliate of American Atheists, and others, the so-called "cross" was moved from Ground Zero to St. Peter's Church, where it stood for five years.
On Saturday, July 23, 2011, after being blessed with holy water by Franciscan priest Father Brian Jordan, it was moved back to Ground Zero for placement in the National September 11 Memorial Museum.
Violates Separation of Church & State
American Atheists oppose the placement of the so-called "cross" in the museum as a violation of America's separation-of-church-and-state laws guaranteed by the U.S. Constitution and subsequent case law. Under these laws, religious icons and representations have been removed from public places where they were in the faces of, and could not be avoided by, citizens of other religions or no religion.
American Atheists also oppose the so-called "cross" because it is a Christian icon and discriminates against the Jews, Muslims, Buddhists, Hindus, Atheists, Agnostics, Humanists, Skeptics, Wiccans, Freethinkers, nonbelievers and others who died on 9/11. Attorneys for the plaintiffs have estimated these non-Christians constituted some 1,031 of those who died. Yet these victims have no symbols representing them in the Memorial Museum.
"The WTC cross is a Christian symbol," said David Silverman, president of American Atheists. "It has been blessed by so-called holy men and presented as a reminder that their god, who couldn't be bothered to stop the Muslim terrorists or prevent 3,000 people from being killed in his name, cared only enough to bestow upon us some rubble that resembles a cross. It is truly a ridiculous assertion."
Three of the suit's plaintiffs are officers of New York City Atheists, Inc.
One Who Was There on 9/11
Plaintiff Jane Everhart, communications director of New York City Atheists, Inc., was in the World Trade Center area on the morning of September 11, 2001. "I was due to start jury duty that day," she says. "But when I got out of the subway at City Hall, the streets were filled with people silently looking up at the sky. I think the second plane had just hit. The South Tower was half burned down, it looked like a giant cigarette ash. I saw people jumping or falling from the towers, scores of them. Sometimes, with their arms spread eagle, some looked like they were diving into water. I was horrified. These people had to choose on that day how they were going to die.
"I fought my way through the crowds and went to the Criminal Court, where it was supposed to be my first day as a juror. The security guards told me to flee, to get home any way I could. Just about then the first tower collapsed. I headed north, trying to beat the cloud of ash along with thousands of others; the streets were filled from curb to curb with people. I tried to go into a subway but a stranger, himself covered with white ash, dissuaded me, saying I might get trapped there. I took off my shoes and walked, ran or limped all the way to Astor Place, where there were dozens of buses waiting and I managed to get on one."
Everhart was so traumatized by the events on 9/11 that when she was called for jury duty a year or so later, "I could not make it down to the City Hall area. I got as far as Grand Central and couldn't go any further." Called on to explain to the jury selection division why she didn't show up, Everhart was excused from jury duty forever.
Must Represent All the People
Everhart says she was too traumatized to go down to Ground Zero for years. In 2009, when the two fallen towers were represented by lights going up into the sky, a friend took her down there. "I wept," she says, "but it was O.K. The lights were a beautiful symbol."
But the i-beam "cross" is another story, Everhart says. "That ugly piece of wreckage does not represent anything to me but horror and death. I will not be able to go to the Memorial Museum if that piece of debris is there. If some deluded Christians think it resembles a cross, then they should keep it in their church. Let our Memorial be a thing of beauty that represents all the people!"
There are thousands of people like herself who feel that the Christian church has monopolized the memorializing of those who died, Everhart notes. Others feel that the church is using the Memorial Museum opportunistically for plugging its brand of religion. "The Museum should remember everybody who died or suffered," she says, "not just the Christians. America is a melting pot."
---
Tweet
RELATED CONTENT
Update - Twitter exchange - Hard...
First Aid Kit - YouTube -... Comments
First Aid Kit - Hard Believer
Why Is Everyone on the Internet So...
Natalie Wolchover & Life's Little... Comments
A perfect storm engenders online rudeness, including virtual anonymity and thus a lack of accountability, physical distance and the medium of writing
Death of scientific evidence mourned on...
Meagan Fitzpatrick - CBC News Comments
Scientists, concerned citizens hold mock funeral in Ottawa to protest federal cuts
Should Depressed People Avoid Having...
Maia Szalavitz - TIME - Healthland 39 Comments
Do people with depression or other psychological problems have any moral obligation to forgo bearing children in order to avoid passing on their "bad" genes?
2,000 protesters support gay rights
Laura Graff - Winston-Salem Journal 14 Comments
Protesters travel to speak against Pastor Charles Worley, who gave a sermon May 13 that suggested gay people should be rounded up, placed in a sort of concentration camp, and left to die.
Hemant Mehta - Washington Post 41 Comments
"The Internet is blind faith's worst nightmare."
MORE BY -