I'm an atheist. Is that a problem?
By KATE HILPERN - GUARDIAN.CO.UK
Added: Sun, 14 Aug 2011 09:48:29 UTC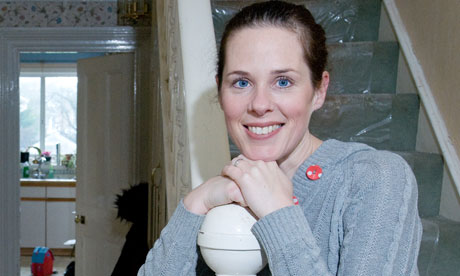 Kate Hilpern and her husband chose guardians for their children instead of godparents. Photograph: Christian Sinibaldi for the Guardian
Kate, we'd love you to be Matthew's godmother," said my friend Caroline last week, referring to their 12-week-old son. My stomach tightened. Don't get me wrong – I really want to. It's an honour of the highest order. The problem is that I'm an atheist. So, what to do?
Caroline, who is a Christian and a friend since school, knows this about me. Just as my cousin – also a Christian, who asked me to be godmother to her daughter a few years ago – knows. As I think about it, I relax. I just have to mumble a few words in church, see Matthew have his forehead sprinkled with water, then let the fun begin. I wouldn't be the first non-believing godparent, nor the last.
But then I think about the ceremony and the knot in my stomach returns. "All men are conceived and born in sin." Christening is about sanctifying the child and washing away the sin so that he can be received into Christ's holy church. Well, I'm sorry, but there is little that is more pure than a new baby, and all this talk about the devil and sin and carnal affections in reference to a tiny infant sits very uncomfortably with me. I'm with Richard Dawkins when it comes to children and faith – you can't say a child is Christian, as baptisms appear to do, merely that they are a child of Christian parents.
I tell my friend this, perhaps a little more gently. It is agreed that as it's the nature of the role that is ultimately what counts, it's fine for me to attend the christening without taking part. In my cousin's case, she omitted to tell the vicar there was a third godparent, and in my friend's case, she plans to ask the vicar to allow for the fact that there's an atheist in the mix.
Excellent. Job done. But is it? What, actually, is my role after that? What is any godparent's role within a family? And is there any point, in these ungodly times, in having godparents?
---
Tweet
MORE BY KATE HILPERN