Pierre de Fermat's Last Theorem celebrated in a cheeky Google doodle
By NATHAN GREEN - GUARDIAN.CO.UK
Added: Wed, 17 Aug 2011 20:34:02 UTC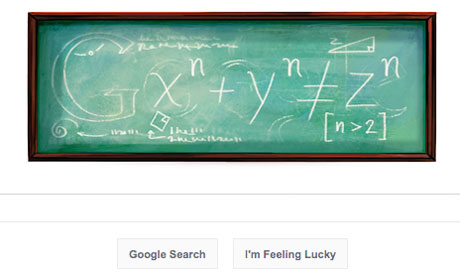 Pierre de Fermat, born on this day in 1601, and his famous Last Theorem in today's Google doodle.
Photograph: Google
Joyeux anniversaire, Pierre de Fermat! Today is the French mathematician's 410th birthday.
Fermat is best known as the originator or Fermat's Last Theorem, which consists of a deceptively simple-looking formula famously scrawled in a book's margin, where he claimed the proof was too large to fit. The theorem's fame grew because – despite the efforts of countless mathematicians – four centuries would pass before the publication of a successful proof in 1995 by Sir Andrew Wiles, a Royal Society Research Professor at Oxford.
Fermat's birthday is marked today with a Google doodle, and in a wry reference to the mathematician's original margin note, if you hover your mouse over the doodle the alt text is "I have discovered a truly marvelous proof of this theorem, which this doodle is too small to contain."
According to the theorem, for any integer n greater than two, there are no positive integers a, b, and c that can satisfy the equation:
an + bn = cn
You may recognise from your school days the simple case when n = 2 as Pythagoras' Theorem.
Perhaps Fermat would have preferred to be remembered for something other than a small comment in the margin of a book? Here are some of the things that you may not know about Pierre de Fermat.
Read more
---
Tweet
RELATED CONTENT
MORE BY NATHAN GREEN