Catholic clergy 'abused children for decades in County Donegal'
By HENRY MCDONALD - GUARDIAN.CO.UK
Added: Tue, 30 Aug 2011 01:55:20 UTC
Report is expected to claim police were complicit in cover-up of sexual abuse by priests and lay members of the church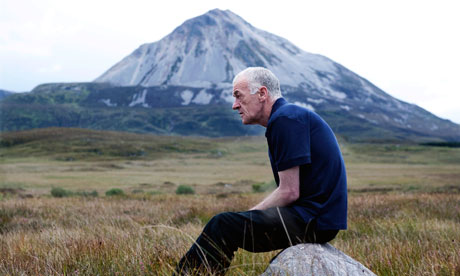 John O'Donnell, who says he was abused between the ages of nine and 15 by a man who sang in a local church choir in County Donegal. Photograph: Kim Haughton
County Donegal in Ireland is about to have its bucolic image shattered by a report into how paedophiles, both clergy and laity, abused children for decades.
An investigation into clerical sex abuse in the Catholic diocese of Raphoe in County Donegal is about to report its findings, which are expected to be damning. Meanwhile, new evidence has emerged from victims of a parallel paedophile ring operating in the same Gaelic-speaking corner of the Irish Republic.
A number of survivors of abuse have told the Guardian that lay members of the church as well as priests sexually exploited them for years in the county.
And as with the expected conclusion of the report into Raphoe, they say the national police service, the Garda, was complicit in a culture of cover-up that allowed the perpetrators to carry on abusing them.
Read more
---
Tweet
RELATED CONTENT
Nick Cohen - The Spectator Comments
To be a racist in Britain, you do not need to cover yourself in tattoos and join a neo-Nazi party. You can wear well-made shirts, open at the neck, appreciate fine wines and vote Left at election time.
The rebranding of circumcision as...
Brendan O'Neill - The Telegraph Comments
The rebranding of circumcision as 'child abuse' echoes the ugly anti-Semitism of medieval Europe
Religious Extremism In Public Schools:...
Katherine Stewart, R. Elisabeth... Comments
Religious Extremism In Public Schools: R. Elisabeth Cornwell & Sean Faircloth interviews author Katherine Stewart
Roman Catholic Church official...
NBC News - MNSBC Comments
A Roman Catholic church official was convicted Friday of child endangerment but acquitted of conspiracy in a groundbreaking clergy-abuse trial
[Update] How Christian fundamentalists...
Katherine Stewart - The Guardian 36 Comments
How Christian fundamentalists plan to teach genocide to schoolchildren
MORE BY HENRY MCDONALD