Why 9/11 was good for religion
By ANDREW BROWN - THE GUARDIAN
Added: Sun, 11 Sep 2011 10:35:03 UTC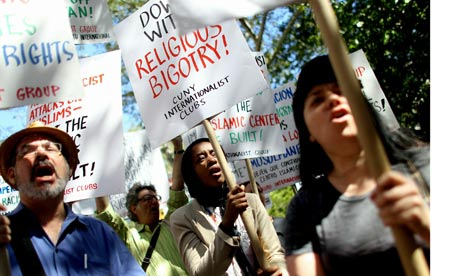 9/11 rally – protesters pledge support for a proposed mosque near the World Trade Centre site in New York City. Photograph: Mario Tama/Getty Images
9/11 strengthened fundamentalism in every global faith – and in atheism too. But it has also led to backlashes against these doctrines wherever they have appeared.
In Islam there have been positive developments. The attacks were repeatedly and clearly condemned by Muslim leaders all over the world. After Pope Benedict XVI's controversial Regensburg speech, the most notable response was the decision of 137 Muslim scholars to sign a declaration outlining what common values they shared with Christians.
This "common word" declaration is an example of "hard tolerance" – the increasing practice of making theological differences distinct and then talking about them, rather than trying to conceal them in a syrup of platitudes about love and mysticism. The aim is for priests, imams and rabbis to enter imaginatively into each other's ideologies, rather than simply agreeing.
At the same time, the heretical understanding of jihad as the sixth pillar of Islam, which originated in Egyptian circles in the 1980s, spread across south-east Asia. Children in the disputed areas of Pakistan are taught by the Taliban that jihad can compensate for other flaws in a Muslim's life.
Among Christians, too, there has been a growth of understanding and interest in Islam, and a simultaneous increase in its demonisation, which this year culminated in Anders Breivik's terrorist attacks in Norway.
The mass killer was clearly influenced by a post-9/11 theology that sees Christian Europe under attack from Muslim immigration. Variants of this idea animate political parties in many European countries: the Netherlands, Belgium, France, Denmark, Sweden, Norway and Italy. For them, Europe's Christian identity has become a sacred value.
The same polarised reactions can be seen in secular ideologies. The new atheist movement was started by a group of writers who perceived Islam as an existential threat. "We are at war with Islam," argued one of its leaders, Sam Harris, who also called for the waterboarding of al-Qaida members. Meanwhile The God Delusion author, Richard Dawkins, refers to Islam as the most evil religion in the world. The publication of anti-Muhammad cartoons in the Danish newspaper Jyllands-Posten in 2005, and the furore surrounding it, demonstrated the deliberate use of blasphemy as a weapon in cultural wars.
---
Tweet
RELATED CONTENT
MORE BY ANDREW BROWN