Pope accused of crimes against humanity by victims of sex abuse
By KAREN MCVEIGH - THE GUARDIAN
Added: Tue, 13 Sep 2011 14:17:49 UTC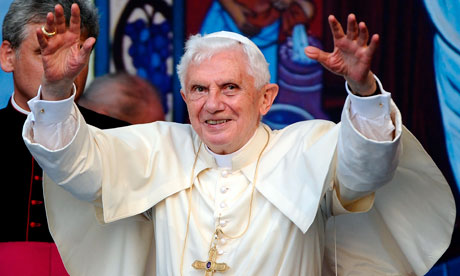 Pope Benedict XVI, who has been cited in a complaint to the international criminal court. Photograph: Vincenzo Pinto/AFP/Getty Images
Victims of sexual abuse by Catholic priests have accused the pope, the Vatican secretary of state and two other high-ranking Holy See officials of crimes against humanity, in a formal complaint to the international criminal court (ICC).
The submission, lodged at The Hague on Tuesday, accuses the four men not only of failing to prevent or punish perpetrators of rape and sexual violence but also of engaging in the "systematic and widespread" practice of concealing sexual crimes around the world.
It includes individual cases of abuse where letters and documents between Vatican officials and others show a refusal to co-operate with law enforcement agencies seeking to pursue suspects, according to the Centre for Constitutional Rights (CCR), a US-based organisation that represents the claimants.
Pam Spees, human rights attorney with CCR, said: "The point of this is to look at it from a higher altitude. You zoom out and the practices are identical: whistleblowers are punished, the refusal of the Vatican to co-operate with law enforcement agencies. You see the protection of priests and leaving them in the ministry and because of these decisions other children are raped and sexually assaulted."
She said: "It's not only the facts of the abuse but the way that the church deepened the harm in sometimes irreparable ways."
According to the document filed by CCR, the pope, as head of the Catholic church, is ultimately responsible for the sexual abuse of children by priests and for the cover-ups of that abuse. The group argues that he and others have "direct and superior responsibility" for the crimes of those ranked below them, similar to a military chain of command.
---
Tweet
RELATED CONTENT
Nick Cohen - The Spectator Comments
To be a racist in Britain, you do not need to cover yourself in tattoos and join a neo-Nazi party. You can wear well-made shirts, open at the neck, appreciate fine wines and vote Left at election time.
The rebranding of circumcision as...
Brendan O'Neill - The Telegraph Comments
The rebranding of circumcision as 'child abuse' echoes the ugly anti-Semitism of medieval Europe
Religious Extremism In Public Schools:...
Katherine Stewart, R. Elisabeth... Comments
Religious Extremism In Public Schools: R. Elisabeth Cornwell & Sean Faircloth interviews author Katherine Stewart
Roman Catholic Church official...
NBC News - MNSBC Comments
A Roman Catholic church official was convicted Friday of child endangerment but acquitted of conspiracy in a groundbreaking clergy-abuse trial
[Update] How Christian fundamentalists...
Katherine Stewart - The Guardian 36 Comments
How Christian fundamentalists plan to teach genocide to schoolchildren
MORE BY KAREN MCVEIGH