Male deep-sea squid seeks mate of either sex for fun in the dark
By IAN SAMPLE - THE GUARDIAN
Added: Mon, 26 Sep 2011 09:06:46 UTC
Thanks to mmurray for the link
---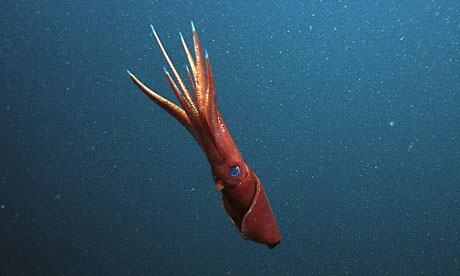 A female deep-sea squid in Monterey Canyon with sperm sacs visible as white dots on the dorsal arms. Males were as likely as females to have sperm sacs on their bodies. Photograph: MBARI
Scientists have identified another mishap that can result from sex in the dark after filming creatures that live in the deeps of the Pacific Ocean.
Footage from remote-controlled submersibles revealed that male deep-sea squid struggle to distinguish between potential mates and members of the same sex in the dimly lit waters.
But instead of developing keener senses to help find a partner, the male of the species has adopted a sexual strategy to suit the conditions: it mates with any deep sea squid it comes across.
Researchers blame bad light, similar male and female body size and the rarity of encounters for the squid's indiscriminate behaviour, which leaves its mark on the bodies of unsuspecting males in the form of spent sperm sacs.
Henk-Jan Hoving, a marine biologist at the Monterey Bay Aquarium Research Institute in California, said that wasting sperm was apparently less costly for the males than honing their ability to spot females.
His team found evidence of the squid's "shot-in-the-dark" approach to sex when they examined screen grabs from video recorded at depths of 400-800 metres in the Monterey submarine canyon off the coast of California. To their surprise, as many males as females carried spent sperm sacs on their bodies, a sure sign that males had attempted to mate with them.
In a report published in the journal Biology Letters, the authors claim the behaviour "exemplifies the 'live fast and die young' life strategy of many cephalopods."
The study centred on a squid species called Octopoteuthis deletron. When the squid mate, the male releases a sperm-filled bag that discharges into the female's tissues. The act is swift, but leaves empty sperm sacs on the female body as an outward sign of recent mating.
---
Tweet
RELATED CONTENT
MORE BY IAN SAMPLE