Jerusalem dance studio is the new frontline in battle for secular liberty
By HARRIET SHERWOOD - THE OBSERVER
Added: Sun, 27 Nov 2011 14:01:36 UTC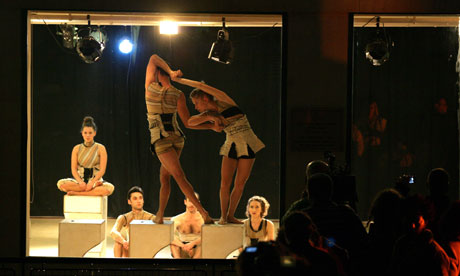 Dancers rehearsing in the picture windows of the refurbished Kolben Dance Studio in Jerusalem. Photograph: Abir Sultan/EPA
The concentration on the dancers' faces was clear through the large windows. In leggings and layers of loose tops, the young women and men arched and spun gracefully as they rehearsed Babel, the contemporary dance show currently performing in Jerusalem.
There was nothing unusual about the rehearsal itself. What was unusual was the dancers' visibility to those passing by the Kolben Dance Company studios.
Since the company renovated its premises in the centre of Jerusalem, installing picture windows that let passers-by see the rehearsals, ultra-orthodox Jews in the locality have waged a campaign against what they call the "indecency" of the women dancers.
They have demanded that the company close the blinds to conceal the women, banging on the windows and yelling through the glass whenever it has not complied.
Last week the company took a stand. It raised the blinds for an informal performance of Babel and the dancers continue to rehearse in full view.
The campaign by Haredi Jews against the dance company is not an isolated one. Over the past few years, Haredim have also persuaded companies to remove images of women from advertising billboards in Jerusalem and from the sides of buses, and have defaced or ripped down many of those that remain.
They have pressed for segregated sections on public transport and separate entrances for men and women at post offices, pharmacies, health centres and supermarkets. Last month they tried to impose a barrier on a street in Jerusalem to force men and women to walk apart during the Jewish festival of Sukkot.
Their rabbis are campaigning against female soldiers taking part in army singing ceremonies, with one urging male soldiers to walk out of such events "even if there's a firing squad waiting outside to kill you". They have also demanded that women be forbidden from taking up combat positions.
Nineteen reserve major-generals, including two former heads of the air force, wrote to the defence minister, Ehud Barak, this month, warning that acquiescence to the rabbis' demands – "the separation of women from the public sphere" – would "damage the fundamental values of Israeli society".
The Haredim say Jewish religious teachings demand modest dress, the segregation of men and women in public, and a prohibition on women singing in the presence of men in case it arouses shameful thoughts. Their opponents, who include religious and secular Jews, say the extremist Haredi campaign is an attempt to "erase" women from public life and control the public arena.
---
Tweet
RELATED CONTENT
MORE BY HARRIET SHERWOOD