'Honour' crimes against women in UK rising rapidly, figures show
By RACHEL WILLIAMS - THE GUARDIAN
Added: Sat, 03 Dec 2011 13:18:43 UTC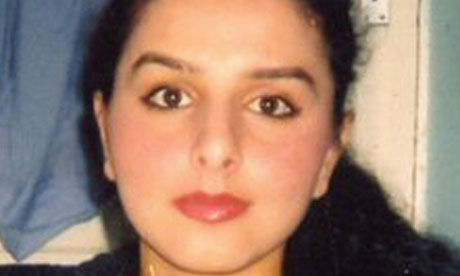 Banaz Mahmod, an 'honour killing' victim strangled in 2006. Photograph: Metropolitan police/PA
The number of women and girls in the UK suffering violence and intimidation at the hands of their families or communities is increasing rapidly, according to figures revealing the nationwide scale of "honour" abuse for the first time.
Statistics obtained under the Freedom of Information Act about such violence – which can include threats, abduction, acid attacks, beatings, forced marriage, mutilation and murder – show that in the 12 police force areas for which comparable data was available, reports went up by 47% in just a year.
The figures, shared with the Guardian by the Iranian and Kurdish Women's Rights Organisation (Ikwro), also reveal that a small number of forces – including four in Scotland – are still not collecting data on how often such violence occurs.
The 39 police forces that gave Ikwro figures recorded 2,823 incidents in 2010. Ikwro estimates that another 500 crimes in which police were involved were committed in the 13 force areas that did not provide data.
But this is likely to be only the tip of the iceberg, campaigners say, as so many incidents go unreported because of victims' fears of recriminations.
Jasvinder Sanghera of victim support group Karma Nirvana said the real figure could be four times as high.
---
Tweet
RELATED CONTENT
Update - Twitter exchange - Hard...
First Aid Kit - YouTube -... Comments
First Aid Kit - Hard Believer
Why Is Everyone on the Internet So...
Natalie Wolchover & Life's Little... Comments
A perfect storm engenders online rudeness, including virtual anonymity and thus a lack of accountability, physical distance and the medium of writing
Death of scientific evidence mourned on...
Meagan Fitzpatrick - CBC News Comments
Scientists, concerned citizens hold mock funeral in Ottawa to protest federal cuts
Should Depressed People Avoid Having...
Maia Szalavitz - TIME - Healthland 39 Comments
Do people with depression or other psychological problems have any moral obligation to forgo bearing children in order to avoid passing on their "bad" genes?
2,000 protesters support gay rights
Laura Graff - Winston-Salem Journal 14 Comments
Protesters travel to speak against Pastor Charles Worley, who gave a sermon May 13 that suggested gay people should be rounded up, placed in a sort of concentration camp, and left to die.
Hemant Mehta - Washington Post 41 Comments
"The Internet is blind faith's worst nightmare."