Preview: Richard Dawkins interviews Christopher Hitchens
By GEORGE EATON - NEW STATESMAN
Added: Tue, 13 Dec 2011 15:17:56 UTC

Meeting of minds: Richard Dawkins (left) and Christopher Hitchens in conversation.
Photograph: Michael Stravato.
As we revealed earlier this week, this year's New Statesman Christmas special is guest-edited by Richard Dawkins (copies can be purchased here). Among the many highlights is Dawkins's interview with his fellow anti-theist Christopher Hitchens, who began his career at the NS in 1973.
The great polemicist is currently undergoing treatment for stage IV oesophageal cancer ("there is no stage V," he notes) and now rarely makes public appearances but he was in Texas to receive the Freethinker of the Year Award from Dawkins in October. Before the event, the pair met in private to discuss God, religion and US politics. The resulting conversation can now be read exclusively in the New Statesman.
I'd recommend pouring yourself a glass of Johnnie Walker Black Label and reading all 5,264 words but, here, to whet your appetite, are some short extracts. As they show, though physically frail, Hitchens retains his remarkable mental agility.
"Never be afraid of stridency"
Richard Dawkins One of my main beefs with religion is the way they label children as a "Catholic child" or a "Muslim child". I've become a bit of a bore about it. Christopher Hitchens You must never be afraid of that charge, any more than stridency. RD I will remember that. CH If I was strident, it doesn't matter - I was a jobbing hack, I bang my drum. You have a discipline in which you are very distinguished. You've educated a lot of people; nobody denies that, not even your worst enemies. You see your discipline being attacked and defamed and attempts made to drive it out. Stridency is the least you should muster . . . It's the shame of your colleagues that they don't form ranks and say, "Listen, we're going to defend our colleagues from these appalling and obfuscating elements."
---
Tweet
RELATED CONTENT
Richard Dawkins & Lawrence Krauss...
- - YouTube - Atheist Foundation 43 Comments
Richard Dawkins & Lawrence Krauss Tribute to Christopher Hitchens - 2012 Global Atheist Convention
Orwell prize: Christopher Hitchens...
John Dugdale - The Guardian 4 Comments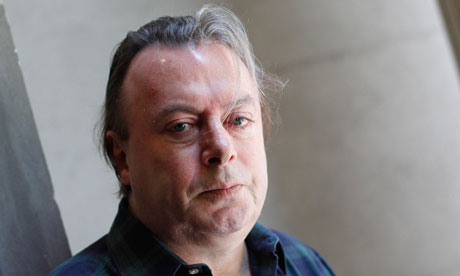 Orwell prize: Christopher Hitchens honoured with memorial award
Heaven Can Wait - Was I wrong about the...
Christopher Hitchens, as told to Art... 49 Comments

Heaven Can Wait - Was I wrong about the afterlife? No.
Appeal to Freethinkers to Fight Cancer
- - YouTube - ScottBurdickArt 14 Comments

Appeal to Freethinkers to Fight Cancer
Stephen Fry & friends on the life,...
- - YouTube - iqsquared 33 Comments
Stephen Fry & friends on the life, loves and hates of Christopher Hitchens - IQ2 talks
Christopher Hitchens - Free Inquiry 52 Comments
Why should he sit still and see a valued and precious discipline being insulted, even threatened with not being taught?
MORE BY GEORGE EATON
Archbishop of Glasgow: Labour MP David...
George Eaton - NewStateman Comments
Archbishop of Glasgow: Labour MP David Cairns died because he was gay