Nigerian churches targeted by Christmas Day bombs
By SHIV MALIK AND AGENCIES - THE GUARDIAN
Added: Mon, 26 Dec 2011 18:45:17 UTC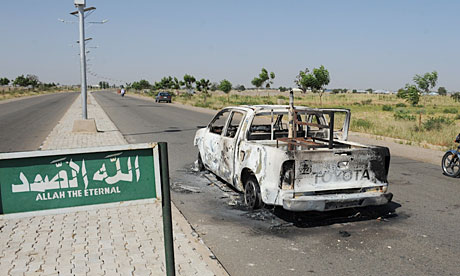 A burnt police truck in north-eastern Nigeria, next to a road sign reading 'Allah the Eternal'. It was destroyed by a bomb during a series of attacks in November claimed by Islamist group Boko Haram. Photograph: Pius Utomi Ekpei/AFP/Getty Images
A militant Islamist group has claimed responsibility for a series of co-ordinated attacks on Christmas Day services at churches in Nigeria, one of which killed at least 35 people.
The first and deadliest attack occurred near a Catholic church in Madala on the outskirts of the capital, Abuja, during morning prayers.
Hours after the first bomb, blasts were reported at the Mountain of Fire and Miracles church in the central, ethnically and religiously mixed town of Jos, and at a church in northern Yobe state in the town of Gadaka. A government spokesman said a police officer had been killed by gunmen in Jos, while many were said to be wounded in Gadaka.
Police found two other explosive devices in Jos, which they deactivated, and arrested one man. Residents of the north-eastern city of Damaturu also reported two blasts but there were no details immediately available.
Boko Haram claimed responsibility for the attacks. The group – whose name in the Hausa language of northern Nigeria means "western education is sinful" – is loosely modelled on the Taliban movement in Afghanistan. It wants to impose Islamic sharia law across the country, which is split roughly equally between Christians and Muslims.
---
Tweet
RELATED CONTENT
MORE BY SHIV MALIK AND AGENCIES