Scientists buzz Simon Cowell for promoting pseudoscience
By ALOK JHA - THE GUARDIAN
Added: Wed, 28 Dec 2011 13:04:57 UTC

Simon Cowell swears by an intravenous cocktail of vitamins C, B12 and magnesium to keep him looking and feeling young. Photograph: Ken Mckay/Rex Features
Where there's a celebrity, there's often a fad diet, miracle crystal bracelet or misunderstanding about science. In 2011, Simon Cowell thought it was best to get his vitamins delivered intravenously, American TV host Bill O'Reilly reckoned the Earth's tides were a mystery, and Gwyneth Paltrow championed expensive detox treatments.
These celebrity missteps, and many others, are highlighted in the sixth annual review published by the charity Sense About Science (SAS). "We're seeing changes – people are contacting us, medical charities are briefing their celebrities more and working with us to follow up dangerous advice, and we now have over 5,000 scientists and hundreds of organisations signed up to offer help," said Tracey Brown, managing director at SAS.
"So there really is no excuse for celebrities promulgating misleading claims. While it gives us a good reason to talk about sound science on subjects like oceans and diets, sadly our publications don't go nearly so far so fast as a comment by an A-list actress."
Simon Cowell believes he can look and feel young by taking an intravenous cocktail of vitamins C, B12 and magnesium: "It's an incredibly warm feeling … You feel all the vitamins going through you. It's very calming."
Ursula Arens, a dietitian at the British Dietetic Association said that Cowell's treatment was unlikely to be providing much benefit and that, unless someone has a vitamin deficiency, their food intake should provide all the vitamins they need. "The absorption of vitamins is very efficient so – apart from people who are very ill or have particular gut problems – nearly all of what you eat is taken up by your body," she said. "If you are worried about not getting enough vitamins from food, and cannot change your diet, then vitamin supplements are a simple way to give you reassurance."
Perhaps more bizarre than Cowell was American reality-TV star Nicole "Snooki" Polizzi's hatred of the beach. She put it down to a fear of sharks and because "the water's all whale sperm. That's why the ocean's salty."
---
Tweet
RELATED CONTENT
MORE BY ALOK JHA
Study casts doubt on human-Neanderthal...
Alok Jha - The Guardian Comments
Cambridge scientists claim DNA overlap between Neanderthals and modern humans is a remnant of a common ancestor
Edge challenges leading thinkers to...
Alok Jha - The Guardian 16 Comments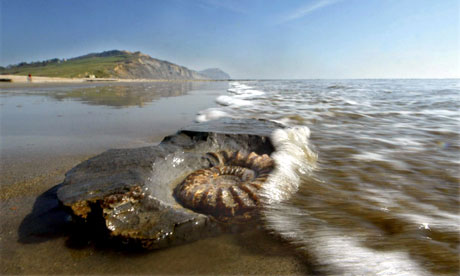 Edge challenges leading thinkers to name
their 'favourite explanations'