Christopher Hitchens (Vanity Fair, Feb 2012)
By SALMAN RUSHDIE - -
Updated: Sun, 15 Jan 2012 16:01:48 UTC
On June 8th, 2010, I was "in conversation" with Christopher Hitchens at the 92nd Street Y in New York in front of his customary sellout audience, to launch his memoir, Hitch-22. Christopher turned in a bravura performance that night, never sharper, never funnier, and afterwards at a small, celebratory dinner the brilliance continued. A few days later he told me that it was on the morning of the Y event that he had been given the news about his cancer. It was hard to believe that he had been so publicly magnificent on such a privately dreadful day. He had shown more than stoicism. He had flung laughter and intelligence into the face of death.
Hitch-22 was a title born of the silly word games we played, one of which was "Titles that don't quite make it," among which were A Farewell to Weapons, For Whom the Bell Rings, To Kill a Hummingbird, The Catcher in the Wheat, Mr Zhivago and Toby-Dick, aka Moby-Cock. And, as the not-quite version of Joseph Heller's comic masterpiece, Hitch-22. Christopher rescued this last title from the slush pile of our catechism of failures and redeemed it by giving it to the text which now stands as his best memorial.
Laughter and Hitchens were inseparable companions, and comedy was one of the most powerful weapons in his arsenal. When we were both on Real Time with Bill Maher along with Mos Def, and the rapper began to offer up a series of cockeyed animadversions about Osama bin Laden and Al-Qaeda, Christopher became almost ferally polite, addressing Mos, as he tore into his ideas, by the faux-respectful moniker "Mr Definitely," a name so belittlingly funny that it rendered even more risible the risible notions which Mr D was trying to advance.
Behind the laughter was what his friend Ian McEwan called "his Rolls-Royce mind," that organ of improbable erudition and frequently brilliant, though occasionally flawed, perception. The Hitch mind was indeed a sleek and purring machine trimmed with elegant fittings, but his was not a rarefied sensibility. He was an intellectual with the instincts of a street brawler, never happier than when engaged in moral or political fisticuffs. When I became involved in a public disagreement with the eminent spy novelist John le Carré, Hitchens leapt unbidden into the fray and ratcheted the insult-level up many notches, comparing the great man's conduct to "that of a man who, having relieved himself in his own hat, makes haste to clamp the brimming chapeau on his head." The argument, I'm sorry to report, grew uglier after the Hitch's intervention.
The le Carré dispute took place during the long years of argument and danger that followed the publication of my novel The Satanic Verses and the attack upon its author, publishers, translators and booksellers by the minions and successors of the theocratic tyrant of Iran, Ruhollah Khomeini. It was during these years that Christopher, a good but not intimate friend since the mid-1980s, drew closer to me, becoming the most indefatigable of allies and the most eloquent of defenders.
I have often been asked if Christopher defended me because he was my close friend. The truth is that he became my close friend because he wanted to defend me.
The spectacle of a despotic cleric with antiquated ideas issuing a death warrant for a writer living in another country, and then sending death squads to carry out the edict, changed something in Christopher. It made him understand that a new danger had been unleashed upon the earth, that a new totalizing ideology had stepped into the down-at-heel shoes of Soviet Communism. And when the brute hostility of British and American conservatives (Podhoretz and Krauthammer, Hugh Trevor-Roper and Paul Johnson) joined forces with the appeasement politics of sections of the Western left, and both sides began to offer sympathetic analyses of the assault, his outrage grew. In the eyes of the Right, I was a cultural "traitor" and, in Christopher's words, an "uppity wog," and in the opinion of the Left, the People could never be wrong, and the cause of the Oppressed People, a category into which the Islamist opponents of my novel fell, was doubly justified. Voices as diverse as the Pope, the Cardinal of New York, the British Chief Rabbi, and John Berger and Germaine Greer "understood the insult" and failed to be outraged; and Christopher went to war.
He and I found ourselves describing our ideas, without conferring, in almost identical terms. I began to understand that while I had not chosen the battle, it was at least the right battle, because in it everything that I loved and valued (literature, freedom, irreverence, freedom, irreligion, freedom) was ranged against everything I detested (fanaticism, violence, bigotry, humorlessness, philistinism, and the new offence-culture of the age). Then I read Christopher using exactly the same everything-he-loved-versus-everything-he-hated trope, and felt…understood.
---
Tweet
RELATED CONTENT
Richard Dawkins & Lawrence Krauss...
- - YouTube - Atheist Foundation 43 Comments
Richard Dawkins & Lawrence Krauss Tribute to Christopher Hitchens - 2012 Global Atheist Convention
Orwell prize: Christopher Hitchens...
John Dugdale - The Guardian 4 Comments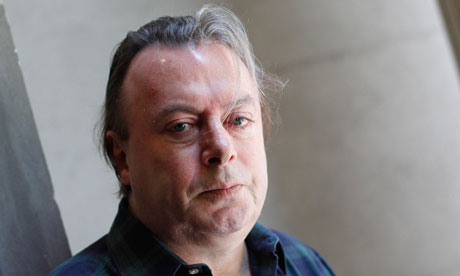 Orwell prize: Christopher Hitchens honoured with memorial award
Heaven Can Wait - Was I wrong about the...
Christopher Hitchens, as told to Art... 49 Comments

Heaven Can Wait - Was I wrong about the afterlife? No.
Appeal to Freethinkers to Fight Cancer
- - YouTube - ScottBurdickArt 14 Comments

Appeal to Freethinkers to Fight Cancer
Stephen Fry & friends on the life,...
- - YouTube - iqsquared 33 Comments
Stephen Fry & friends on the life, loves and hates of Christopher Hitchens - IQ2 talks
Christopher Hitchens - Free Inquiry 51 Comments
Why should he sit still and see a valued and precious discipline being insulted, even threatened with not being taught?
MORE BY SALMAN RUSHDIE