College of Medicine is a lobby group promoting unproven treatments
By EDZARD ERNST - THE GUARDIAN
Added: Sat, 14 Jan 2012 00:48:46 UTC
A 'college' founded last year appears to be a smokescreen behind which alternative medicines can hide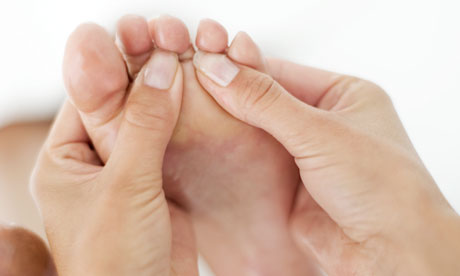 On its website the college singles out institutions offering reflexology (above), homeopathy, aromatherapy and qigong. Photograph: Stockbyte/Getty

Remember the Prince of Wales Foundation for Integrated Health? It had to close last year amid allegations of fraud and money laundering. Only a few months later, a new organisation emerged that took over the pursuit of Prince Charles's bizarre concepts about healthcare.
Clarence House insists that Charles has nothing to do with it. Yet the stated aims are strikingly similar to those of the Foundation for Integrated Health and in May 2011 Charles also attended a dinner at St James' Palace for the college.
The College of Medicine (CoM) is organised and run by much the same individuals as the Foundation (though not those accused of wrongdoing in the investigation) and describes itself in glowing terms as "a force that brings patients, doctors, nurses and other health professionals together, instead of separating them into tribes. A force that combines scientific knowledge, clinical expertise and the patient's own perspective. A force that will re-define what good medicine means."
---
Tweet
RELATED CONTENT