Edge challenges leading thinkers to name their 'favourite explanations'
By ALOK JHA - THE GUARDIAN
Added: Sun, 15 Jan 2012 15:57:02 UTC
In its annual question, Edge magazine asks 'What is your favourite deep, elegant or beautiful explanation?'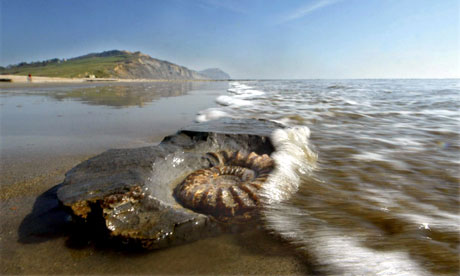 Former New Scientist editor Alun Anderson nominated 'deep time' for its power to change humans' view of themselves. Photograph: Richard Austin/Rex Features

Darwin's theory of evolution by natural selection, Einstein's reinterpretation of the cosmos through general relativity and the idea that we live in one of an infinity of universes are some of the most elegant and beautiful human ideas, according to a group of the world's leading thinkers.
These ideas, and almost 200 others, were the subjects of a series of short essays collated by the web magazine Edge, which invites people including scientists, artists, journalists, historians and philosophers to address a grand question every year. For 2012, Edge editor and literary agent John Brockman posed the seemingly simple question: "What is your favourite deep, elegant or beautiful explanation?"
The responses included established scientific ideas and theorems, maxims for the way societies operate, as well as considerations of what it means for something to be beautiful in the first place.
Richard Dawkins, the Oxford University biologist and author, led the charge in support of Darwin's theory, which he said won hands down in terms of elegance because it had the power to explain much while assuming little. "The ratio of the huge amount that it explains (everything about life: its complexity, diversity and illusion of crafted design) divided by the little that it needs to postulate (non-random survival of randomly varying genes through geological time) is gigantic," wrote Dawkins. "Never in the field of human comprehension were so many facts explained by assuming so few."
---
The Edge Question 2012: WHAT IS YOUR FAVORITE DEEP, ELEGANT, OR BEAUTIFUL EXPLANATION?
Scientists' greatest pleasure comes from theories that derive the solution to some deep puzzle from a small set of simple principles in a surprising way. These explanations are called "beautiful" or "elegant". Historical examples are Kepler's explanation of complex planetary motions as simple ellipses, Bohr's explanation of the periodic table of the elements in terms of electron shells, and Watson and Crick's double helix. Einstein famously said that he did not need experimental confirmation of his general theory of relativity because it "was so beautiful it had to be true."
Read more (188 contributors)
---
Tweet
RELATED CONTENT
MORE BY ALOK JHA