Salman Rushdie goes on offensive after Indian festival appearance is cancelled
By JASON BURKE - THE GUARDIAN
Added: Wed, 25 Jan 2012 15:10:04 UTC
Satanic Verses author attacks Indian politicians for failing to protect free speech after video link appearance is scrapped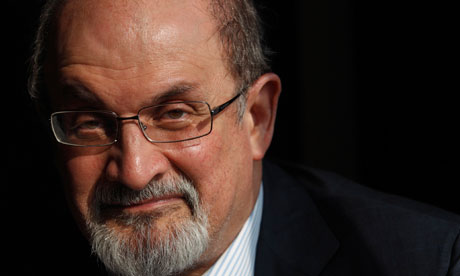 Satanic Verses author Salman Rushdie said his 'overwhelming feeling' was 'disappointment on behalf of India, which is a country that I have loved all my life'.
Photograph: Andrew Winning/REUTERS

Salman Rushdie has launched a scathing attack on the Indian government for failing to protect free speech after organisers of Asia's biggest literary festival were forced to cancel a video-linked appearance by the British author when owners of the venue in the north-west Indian city of Jaipur decided it would be unsafe.
However, in an interview with the local NDTV network, the 64-year-old author reserved his harshest words for the "Muslim groups that were so unscrupulous, and whose idea of free speech is that they are the only ones entitled to it".
"[If] Anyone else, who they disagree with, wishes to open his mouth, they will try and stop that mouth," Rushdie said.
"That's what we call tyranny. It's much worse than censorship because it comes with the threat of violence."
The interview followed the last-minute cancellation of Rushdie's speech to thousands waiting at the Diggi Palace, a heritage hotel in the centre of Jaipur.
---
Tweet
RELATED CONTENT
- - Top Documentary Films Comments
Documentary about ongoing events in Uganda, where many question whether the growing influence of American religious groups has led to a movement to make homosexuality a crime punishable by death.
Pakistani girl accused of Qur'an...
Jon Boone - The Guardian Comments
Tensions rise between Muslim and Christian communities amid claims that 11-year-old desecrated text
Maryam Namazie - Maryam Namazie Comments
Note that YouTube has flagged the video as content unsuitable for some viewers
2,000 protesters support gay rights
Laura Graff - Winston-Salem Journal 14 Comments
Protesters travel to speak against Pastor Charles Worley, who gave a sermon May 13 that suggested gay people should be rounded up, placed in a sort of concentration camp, and left to die.
This is a short promo for the two-hour...
- - YouTube - ScottBurdickArt 53 Comments
This is a short promo for the two-hour documentary, "In God We Trust?" by Scott Burdick.
Jessica "Evil Little Thing" Ahlquist on...
- - CNN 95 Comments

Jessica "Evil Little Thing" Ahlquist on CNN
MORE BY JASON BURKE