Religious freedom under threat from courts, professor warns
By DAVID SHARIATMADARI - THE GUARDIAN
Added: Wed, 25 Jan 2012 20:41:48 UTC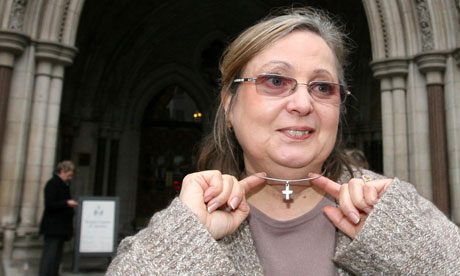 Nadia Eweida was asked by her employer, British Airways, to conceal her crucifix pendant. Photograph: Dominic Lipinski/PA
Religious freedom in the US and Europe is under threat from the courts, an Oxford professor has warned.
In his latest book, Equality, Freedom and Religion, Roger Trigg, who runs the Centre for the Study of Religion in Public Life at Kellogg College, argues: "There has been a clear trend for courts in Europe and North America to prioritise equality and non-discrimination above religion, placing the right to religious freedom in danger."
He cites a number of recent cases, including that of Lillian Ladele, the Islington registrar who refused to conduct civil partnerships because of her religious beliefs. In that case, he says, "the need to respect the right to equality trumped the freedom of religious convictions".
Ladele brought a discrimination case against Islington council in 2007 after she was disciplined. She is waiting for her case to be heard before the European court of human rights, as is a former British Airways employee, Nadia Eweida, whom bosses asked to conceal under her uniform a silver cross pendant.
Trigg says that rather than some rights being deemed more fundamental than others, those that are likely come into conflict should be more fairly balanced.
The academic, a former president of the European Society for Philosophy of Religion, complains that courts are attempting to determine the nature of religious faith for themselves. "To decide whether or not a British Airways employee could wear a cross with her uniform, the courts have suggested it is not a core part of Christian belief – but this decision shouldn't be up to them."
---
Tweet
RELATED CONTENT
MORE BY DAVID SHARIATMADARI
Tesco slump due to divine intervention,...
David Shariatmadari - The Guardian 58 Comments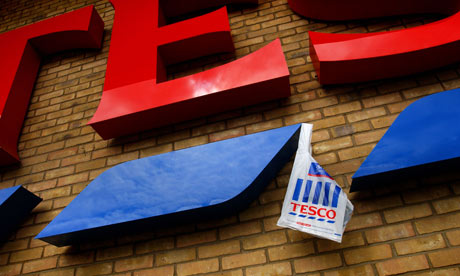 Tesco slump due to divine intervention,
says Christian pressure group