Civic life and law must bind us, not ritual and religion
By POLLY TOYNBEE - THE GUARDIAN COMMENT IS FREE
Added: Fri, 17 Feb 2012 11:13:59 UTC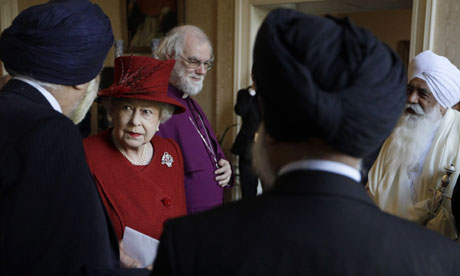 The Queen meets Sikh guests at a multifaith reception at Lambeth Palace this week. Photograph: Matt Dunham/AFP/Getty Images
No surprise that the Queen defends the established church, as she is the anointed defender of the faith. In a week of attacks on secularism she has invented a new role: "not to defend Anglicanism to the exclusion of other religions. Instead, the church has a duty to protect the free practice of all faiths in this country." Who is threatening the free practice of any faith? Not any secularists I know.
Hers is a curiously Jesuitical justification for the CofE's uniquely privileged status, but the faiths are glad to circle their wagons round her against the unbelievers. Each has their own divinely revealed unique truth, often provoking mortal conflict, Muslim v Copt, Catholic v Protestant, Hindu v Muslim or Sunni v Shia. But suddenly the believers are united in defence against the secular, willing to suspend the supremacy of their own prophets to agree that any religion, however alien, from elephant god to son of God, is better than none.
They can all feel their victimhood now, facing what Baroness Warsi called a rising tide of "militant secularisation" reminiscent of "totalitarian regimes". Warsi on the warpath headed a delegation to the Vatican of six ministers, all agreeing the common enemy was not just the secularists but the "liberal elite", too. How the Daily Mail and Daily Telegraph loved wallowing in the CofE as victim against the rise of christianophobia, as if the waspish Prof Richard Dawkins had thrown them all to the lions. But in defending religious privilege, they are on their own: Ipsos Mori found 74% of Christians consider religion should be a private matter and should not influence public policy, so even most Christians are secularists. For Cameron, Lady Warsi may be a useful canary-testing if American flag-and-faith culture wars might fly over here. Mercifully, every poll shows the answer is no. The CofE is no longer the Tory party at prayer: polls show its pews filled mainly with the liberal-minded.
The prefix "aggressive" or "militant" is now super-glued to the word "secularist", but as president of the British Humanist Association and honorary associate of the National Secular Society, I find nothing extreme about trying to keep religion separate from the state. Aggressive? You should see this week's "burn in hell" messages to the BHA attacking "that spastic Hawking who denies God", and many more obscene unprintables.
I will defend to the death anyone's right to practice any faith, if it breaks no law, interferes with nobody's rights nor claims undue public policy influence. Church bells, calls to prayer, displays of crucifixes, beards or side-locks are freedoms, alongside bare midriffs and knicker-short miniskirts. Personally, I am affronted by women in face veils, but that's my problem. I will argue against them but freedom of speech, thought and dress are non-negotiable. But so is the right to robust argument that may offend religious sensibilities, including the right to challenge the improbability of the faith itself – and the right to make jokes.
---
Tweet
RELATED CONTENT
Update - Twitter exchange - Hard...
First Aid Kit - YouTube -... Comments
First Aid Kit - Hard Believer
Why Is Everyone on the Internet So...
Natalie Wolchover & Life's Little... Comments
A perfect storm engenders online rudeness, including virtual anonymity and thus a lack of accountability, physical distance and the medium of writing
Death of scientific evidence mourned on...
Meagan Fitzpatrick - CBC News Comments
Scientists, concerned citizens hold mock funeral in Ottawa to protest federal cuts
Should Depressed People Avoid Having...
Maia Szalavitz - TIME - Healthland 39 Comments
Do people with depression or other psychological problems have any moral obligation to forgo bearing children in order to avoid passing on their "bad" genes?
2,000 protesters support gay rights
Laura Graff - Winston-Salem Journal 14 Comments
Protesters travel to speak against Pastor Charles Worley, who gave a sermon May 13 that suggested gay people should be rounded up, placed in a sort of concentration camp, and left to die.
Hemant Mehta - Washington Post 41 Comments
"The Internet is blind faith's worst nightmare."