Can the Reason Rally resonate in this most religious of democracies?
By SARAH POSNER - THE GUARDIAN
Added: Wed, 28 Mar 2012 11:50:54 UTC
In the US, where just one member of Congress is openly atheist, the secular movement needs to 'come out'. And now is the time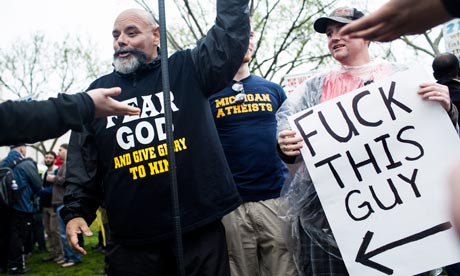 Religionists and atheists debate at the Reason Rally on the National Mall, 24 March 2012 in Washington, DC. Photograph: Brendan Smialowski/AFP/Getty Images
Despite the growing number of Americans who identify their religion as "none", our politics are still dominated by supercharged religious talk. But this past weekend, in a sort of coming out party, atheists and other non-believers gathered on the National Mall last Saturday for the first-ever Reason Rally. It was their way of saying, "We're here! We're queer! Get used to it!"
The Reason Rally was modeled, in part, on gay rights activism that urged people to personalize someone they'd always thought of as an "other". That strategy – recognizing your cousin, your neighbor, your classmate, your sibling isn't straight – has fueled greater acceptance of gays and lesbians, and advances in civil rights. Everyone knows an atheist, the Reason Rally reasoning goes, and knowing an atheist goes a long way to accepting atheism.
While the analogy is imperfect (LGBT people face far more daily overt discrimination and deprivation of rights than do atheists), secularism remains the third rail of politics, and atheists still face hostility from some religious believers. Religious right activists say atheists and secularists discriminate against them – witness the supposed "war on religion" – but on the flip side, witness the antagonism toward Jessica Ahlquist, the Rhode Island student who successfully sued to have a prayer banner removed from the wall of her high school's auditorium. At the Reason Rally, Ahlquist was introduced as the "Joan of Arc of secularism" and presented with a check for college tuition, collected from supporters by the American Humanist Association.
---
Tweet
RELATED CONTENT
MORE BY SARAH POSNER