'Gay cure' Christian charity funded 20 MPs' interns
By ROBERT BOOTH AND JAMES BALL - THE GUARDIAN
Added: Sat, 14 Apr 2012 14:59:44 UTC
Thanks to Atheistegbert for the link.
Christian Action Research and Education has supplied staff to Conservatives, Labour and Liberal Democrats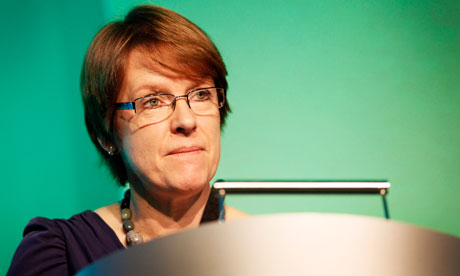 The environment secretary, Caroline Spelman, is among the ministers who have used Care-funded interns. Photograph: David Sillitoe for the Guardian
A Christian charity which sponsored a conference promoting the idea that gay people can be converted to heterosexuality has funded interns for an estimated 20 MPs, including some who are now ministers in the coalition government.
The Christian Action Research and Education charity (Care) has provided staff to the parliamentary offices of Caroline Spelman, Alistair Burt and Steve Webb. In 2009 it sponsored a London conference about homosexuality and Christianity which included sessions on "mentoring the sexually broken". The event in London was also organised by Anglican Mainstream, one of the conservative Christian charities that was blocked this week from showing adverts on London buses that supported the idea that with therapy, homosexual people can become "ex-gay".
The conference featured a keynote by Joseph Nicolosi, a Californian psychologist and founder of the National Association for Research and Therapy of Homosexuality. The organisers said they were "very worried about the continued progress of the gay – and in fact the LGBT – agenda across the board in the UK. Social, cultural, political and religious sectors are being targeted and most of them are capitulating".
MPs involved in accepting assistance from Care under its educational leadership programme are now facing pressure to sever their ties with the charity. None of Spelman, Burt or Webb were available for comment.
---
Tweet
RELATED CONTENT
MORE BY ROBERT BOOTH AND JAMES BALL