Draining of world's aquifers feeds rising sea levels
By DAMIAN CARRINGTON - THE OBSERVER
Added: Sun, 20 May 2012 20:37:02 UTC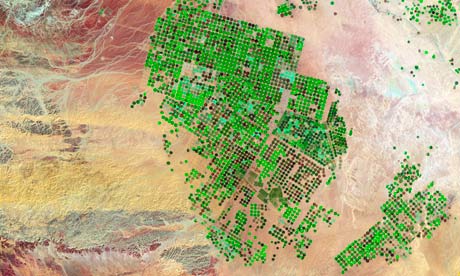 For three decades, Saudi Arabia has been drilling for water from underground aquifers. Engineers and farmers have tapped hidden reserves of water to grow grains, fruit and vegetables in the desert of Wadi As-Sirhan Basin. Photograph: Landsat/Nasa
Humanity's unquenchable thirst for fresh water is driving up sea levels even faster than melting glaciers, according to new research. The massive impact of the global population's growing need for water on rising sea levels is revealed in a comprehensive assessment of all the ways in which people use water.
Trillions of tonnes of water have been pumped up from deep underground reservoirs in every part of the world and then channelled into fields and pipes to keep communities fed and watered. The water then flows into the oceans, but far more quickly than the ancient aquifers are replenished by rains. The global tide would be rising even more quickly but for the fact that manmade reservoirs have, until now, held back the flow by storing huge amounts of water on land.
"The water being taken from deep wells is geologically old – there is no replenishment and so it is a one way transfer into the ocean," said sea level expert Prof Robert Nicholls, at the University of Southampton. "In the long run, I would still be more concerned about the impact of climate change, but this work shows that even if we stabilise the climate, we might still get sea level rise due to how we use water." He said the sea level would rise 10 metres or more if all the world's groundwater was pumped out, though he said removing every drop was unlikely because some aquifers contain salt water. The sea level is predicted to rise by 30-100cm by 2100, putting many coasts at risk, by increasing the number of storm surges that swamp cities.
The new research was led by Yadu Pokhrel, at the University of Tokyo, and published in Nature Geoscience. "Our study is based on a state-of-the-art model which we have extensively validated in our previous works," he said. "It suggests groundwater is a major contributor to the observed sea level rise." The team's results also neatly fill a gap scientists had identified between the rise in sea level observed by tide gauges and the contribution calculated to come from melting ice.
---
Tweet
RELATED CONTENT
Bombshell: Koch-Funded Study Finds...
Joe Romm - Think Progress Comments
CALL me a converted skeptic. Three years ago I identified problems in previous climate studies that, in my mind, threw doubt on the very existence of global warming. Last year, following an intensive research effort involving a dozen scientists, I concluded that global warming was real and that the prior estimates of the rate of warming were correct. I'm now going a step further: Humans are almost entirely the cause.
Eugenie Scott at TAM 2011 - Denialism...
Eugenie Scott - James Randi... 6 Comments
Eugenie Scott at TAM 2011
"Deja Vu All Over Again: Denialism of Climate Change and Evolution."
Arctic melt releasing ancient methane
Richard Black - BBC News - Science &... 6 Comments
Scientists have identified thousands of sites in the Arctic where methane that has been stored for many millennia is bubbling into the atmosphere.
Study underlines importance of Congo...
- - PhysOrg.com 3 Comments
Study underlines importance of Congo Basin for global climate and biodiversity
Stark warning emerges from science...
Deborah Jones - Physorg.com 35 Comments
Science is "under siege," top academics and educators were warned repeatedly at the American Association for the Advancement of Science meeting as they were urged to better communicate their work to the public.
MORE BY DAMIAN CARRINGTON