Orwell prize: Christopher Hitchens honoured with memorial award
By JOHN DUGDALE - THE GUARDIAN
Added: Sat, 26 May 2012 16:55:15 UTC
Widow accepts Hitchens' honorary prize, as Toby Harnden scoops prize with book the Ministry of Defence paid to pulp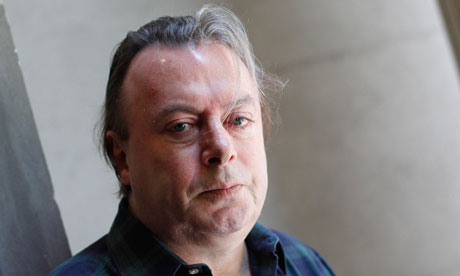 Christopher Hitchens in New York in 2010. Photograph: Shannon Stapleton/REUTERS
That the 2012 Orwell book prize for political writing was won on Wednesday by Toby Harnden's Dead Men Risen, a book whose initial print run was pulped by the MoD, suggests a renewed appetite for trouble-making on the part of the prize's judges, in keeping with the presentation of a special memorial award to Christopher Hitchens's widow at the ceremony in the incongruous setting of the Church of England's Westminster HQ. A giant image of Orwell, a far more benign but still exacting Big Brother, gazed down at the sweltering guests from behind the podium.
Jean Seaton, director of the prize, had earlier noted that Siddhartha Deb's shortlisted The Beautiful and the Damned: Life in the New India was censored in India, and that Julia Lovell's The Opium War, another finalist, "would certainly be censored if the Chinese authorities recognised how mercilessly it slays illusions" about the war, "the founding myth of modern China".
In the case of Dead Men Risen, the story of the Welsh Guards' campaign in Afghanistan, censorship took the bizarre form of the MoD paying Harnden's publisher Quercus £151,450 to destroy 24,000 copies, even though the book had earlier passed a four-month-long pre-publication review by the department.
---
Tweet
RELATED CONTENT
MORE BY JOHN DUGDALE