Dispatches from the birth of the Universe: sometimes science gets lucky
By JOHN TIMMER - ARS TECHNICA
Added: Sun, 03 Jun 2012 21:41:28 UTC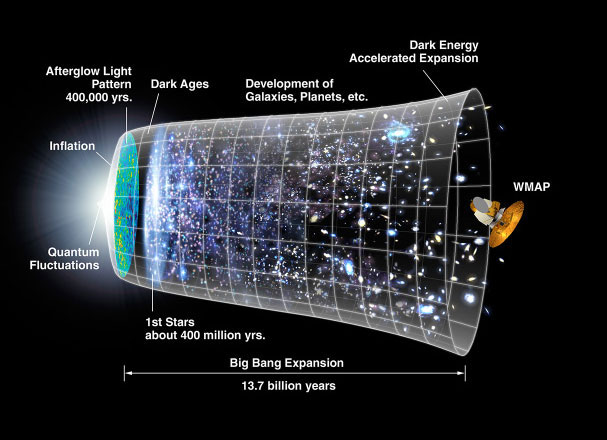 Timeline of the Universe—the expansion of the universe over most of its history has been relatively gradual. The notion that a rapid period "inflation" preceded the Big Bang expansion was first put forth 25 years ago
For the generations that grew up with TV before the age of cable, the box in our living room was a time machine, capable of taking us back to just a few hundred thousand years after the birth of the Universe. We just didn't realize it. Nor did the scientists that discovered this, at least at first. But luck seemed to play a large role in one of the biggest discoveries of our lifetime.
That may not have been the intended message of the discussion called "Dispatches from the Birth of the Universe," hosted by the World Science Festival on Friday. The panel provided a good picture of our current state of knowledge on the birth of the Universe, and a glimpse at what we'll likely find out next. But the history of the field turned out to be ripe with examples of things that were both hiding in plain sight (but required a bit of luck to spot), and others we've been lucky to see at all (well beyond the luck of being the right age to have seen the TV static).
Lawrence Krauss, who moderated the panel, introduced it by turning on an old TV set on stage. When turned to an empty channel, the TV displayed a familiar wall of static. About one percent of that noise, Krauss said, comes from the Universe itself, a remnant of an event that took place roughly 13.7 billion years ago. That's when, 375,000 years after the Big Bang, the Universe finally cooled enough that protons could hang on to electrons, forming hydrogen atoms and emitting photons in the process. These photons, stretched out and cooled by the expansion of the Universe, have been with us ever since. And, with just a regular old TV set, you can capture some of them.
But, even after the birth of television, nobody realized what it was. It was only fully recognized when two researchers at Bell Labs, Arno Penzias and Robert Woodrow Wilson, tried to get rid of it. As a video narrated by Wilson described it, they were attempting to detect faint microwave signals, and needed to get rid of all sources of background noise. They kept failing, though it wasn't for lack of trying. They checked whether it was the result of atomic testing (it didn't decay), whether it might be coming from New York City (which was visible from the site of the instrument), and even cleaned years of pigeon guano out of the hardware. They simply couldn't get their instrument to read a zero value.
---
Tweet
RELATED CONTENT
MORE BY JOHN TIMMER