Spanish artist faces prison over 'how to cook Christ' film
By BEN CHILD - GUARDIAN
Added: Thu, 07 Jun 2012 09:27:11 UTC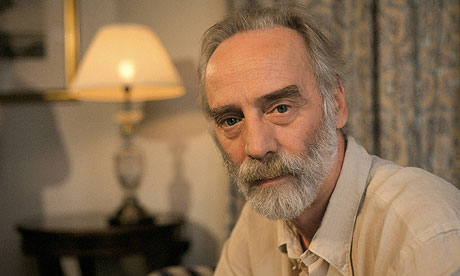 Cooking up controversy ... Javier Krahe. Photograph: Joan Costa/Cover/Getty Images
A leading Spanish artist faces up to a year in prison after being prosecuted for "offending religious feelings" in relation to a short film he made more than 30 years ago that claimed to show "how to cook Jesus Christ".
Javier Krahe, who has been a popular and provocative figure in Spain for nearly half a century, made the film in 1978 but it was only shown on Spanish TV in 2004 as a backdrop to an interview with its creator. The little-known charge – comparable with but not identical to Britain's blasphemy law, remains part of the penal code despite never having been applied before in Spanish legal history.
Krahe's 54-second film uses the tone of a cooking programme, with chefs advised to remove Jesus' nails and separate him from his crucifix, which should be left to one side. Christ's tiny white body – a small figurine is used – is then shown being washed, lightly smothered in butter, placed on a bed of aromatic herbs in a glass tray and popped into an oven. "One gaunt Christ" is apparently enough to feed two, and when the dish is ready (after three days) it miraculously emerges from the oven without assistance.
---
Tweet
RELATED CONTENT
MORE BY BEN CHILD