A Bone Here, a Bead There: On the Trail of Human Origins
By JOHN NOBLE WILFORD - NEW YORK TIMES
Added: Wed, 18 Jul 2012 02:21:13 UTC
Thanks to Quine for the link
---
Who are we, and where did we come from? Scientists studying the origin of modern humans, Homo sapiens, keep reaching deeper in time to answer those questions — toward the last common ancestor of great apes and humans, then forward to the emergence of people more and more like us in body and behavior.
Their research is advancing on three fronts. Fossils of skulls and bones expose anatomical changes. Genetics reveals the timing and place of the Eve of modern humans.
And archaeology turns up ancient artifacts reflecting abstract and creative thought, and a growing self-awareness. Just last month, researchers made the startling announcement that Stone Age paintings in Spanish caves were much older than previously thought, from a time when Neanderthals were still alive.
To help make sense of this cascade of new information, a leading authority on modern human evolution — the British paleoanthropologist Chris Stringer — recently sat for an interview in New York that ranged across many recent developments: the evidence of interbreeding between Neanderthals and Homo sapiens; the puzzling extinct species of little people nicknamed the hobbits; and the implications of a girl's 40,000-year-old pinkie finger found in a Siberian cave.
Dr. Stringer, an animated man of 64, is an anthropologist at the Natural History Museum in London and a fellow of the Royal Society. But he belies the image of a don: He showed up for our interview wearing a T-shirt and jeans, looking as if he had just come in from the field.
A condensed and edited version of our conversation follows. In it and in a new book, he describes a new wrinkle to the hypothesis of a recent African origin of modern Homo sapiens. His ideas may light up more debate in a contentious science.
---
Tweet
RELATED CONTENT
Playboy Interview with Richard Dawkins
Chip Rowe - Playboy Comments
Playboy Interview with Richard Dawkins
Derren Brown talks to Tim Minchin
- - BBC Radio 4 Comments
Derren Brown talks to Tim Minchin
Mars rover searching for signs of life
Lawrence Krauss - CNN Comments
Author and theoretical physicist Lawrence Krauss, discusses what it would be like if we found life on another planet.
British Humanists - YouTube Comments
An introduction to Humanism, with Dawkins, Grayling, Minchin, Copson, Toynbee, Hasan, Pullman, and Margolis
A Jewish, Yankee, Liberal Atheist Runs...
Alan Litchfield - The Malcontent's... Comments
An Interview with Herb Silverman
Jeremy Paxman religious comments were...
John Plunkett - The Guardian Comments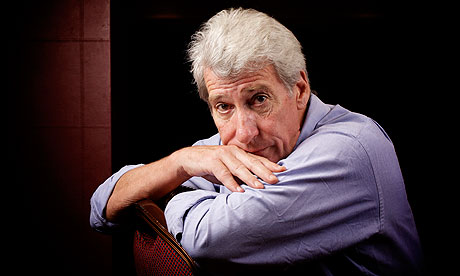 MORE BY JOHN NOBLE WILFORD
Cave art found to be much older than...
John Noble Wilford - The Boston Globe Comments
Stone Age artists were painting red disks, handprints, clublike symbols, and geometric patterns on European cave walls long before previously thought, in some cases more than 40,000 years ago.
Earliest Signs of Advanced Tools Found
John Noble Wilford - New York Times 11 Comments