Jeremy Paxman religious comments were offensive, rules BBC Trust
By JOHN PLUNKETT - THE GUARDIAN
Added: Tue, 31 Jul 2012 13:19:40 UTC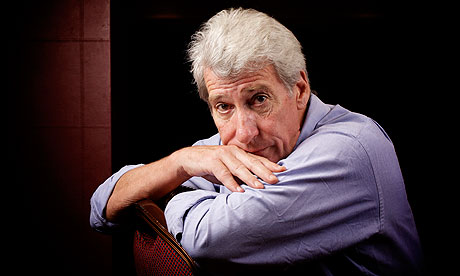 BBC Newsnight presenter Jeremy Paxman 'went too far' with comments about religion. Photograph: Christopher Thomond for the Guardian
Newsnight presenter Jeremy Paxman went too far when he talked about religious hogwash and stupid people who believe in the Old Testament, the BBC Trust has ruled.
Paxman made the comments in an interview with Professor Richard Dawkins, the outspoken author of The God Delusion, prompting one viewer to complain that the presenter of BBC2's Newsnight was biased and offensive.
The trust's editorial standards committee rejected the accusation of bias, but said Paxman might have unintentionally caused offence with the comments which had no clear editorial purpose.
Originally, BBC management rejected the complaint in its entirity, denying that Paxman had shown any anti-Christian bias and saying the presenter had played devil's advocate to Dawkins, who was on the programme to talk about his new book, The Magic of Reality: How We Know What's Really True, on 13 September 2011.
However, the complaint then went to the BBC Trust editorial standards committee, which ruled that Paxman had a well-known interviewing style and viewers would have expected a lively discussion between the pair on the programme.
---
Read this article on the new RDF beata sit
---
Tweet
RELATED CONTENT
Playboy Interview with Richard Dawkins
Chip Rowe - Playboy Comments
Playboy Interview with Richard Dawkins
Derren Brown talks to Tim Minchin
- - BBC Radio 4 Comments
Derren Brown talks to Tim Minchin
Mars rover searching for signs of life
Lawrence Krauss - CNN Comments
Author and theoretical physicist Lawrence Krauss, discusses what it would be like if we found life on another planet.
British Humanists - YouTube Comments
An introduction to Humanism, with Dawkins, Grayling, Minchin, Copson, Toynbee, Hasan, Pullman, and Margolis
A Jewish, Yankee, Liberal Atheist Runs...
Alan Litchfield - The Malcontent's... Comments
An Interview with Herb Silverman
Great Grandson Of L. Ron Hubbard Blasts...
- - CBS Comments
Great-grandson of L. Ron Hubbard calls the author a "charismatic lying con-man pseudoscience self-help author"
MORE BY JOHN PLUNKETT