Pope's ex-butler Paolo Gabriele to stand trial
By - - BBC NEWS
Added: Mon, 13 Aug 2012 15:10:44 UTC
The former butler to Pope Benedict XVI will stand trial for stealing confidential papers and leaking them to the press, a magistrate has ruled.
Paolo Gabriele was arrested in May after police found confidential documents at his Vatican flat.
He has been charged with aggravated theft, including stealing a 100,000-euro (£78,000) cheque, while a computer analyst faces complicity charges.
The Vatican says it will continue to investigate the leaks.
Mr Gabriele admitted he was the source of leaked letters published in a controversial book by an Italian investigative journalist in May.
The bestseller, entitled His Holiness, revealed private correspondence between the Pope and his personal secretary discussing corruption and malpractice among Vatican administrators.
The Vatican called the book "criminal" and vowed to take legal action against the author, publisher, and whoever leaked the documents.
'Evil everywhere'
Mr Gabriele told investigators he acted because he saw "evil and corruption everywhere in the church" while the pope was "not sufficiently informed".
Read more
---
Tweet
RELATED CONTENT
Philippines birth control: Filipinos...
Kenneth R. Weiss - LA Times Comments
In the Philippines, access to contraceptives is limited for the most part to those with the means to pay. The Catholic Church has fought a "reproductive health bill" in the legislature that would change that.
Archbishop of Glasgow: Labour MP David...
George Eaton - NewStateman Comments
Archbishop of Glasgow: Labour MP David Cairns died because he was gay
Former Argentinian dictator says he...
Tom Hennigan - IrishTimes.com Comments
ARGENTINA'S FORMER military dictator said he kept the country's Catholic hierarchy informed about his regime's policy of "disappearing" political opponents, and that Catholic leaders offered advice on how to "manage" the policy.
Helping victims of a College Education
Gerard Murphy - Catholic monthly... Comments
US Catholic bishops' abuse of...
Katherine Stewart - The Guardian Comments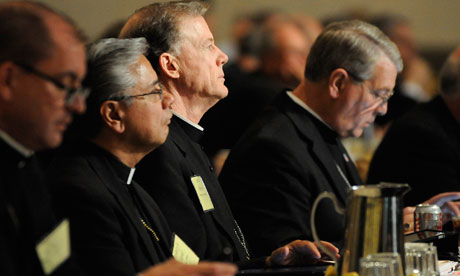 The US Conference of Catholic Bishops in session in Atlanta, Georgia, earlier this month. Photograph: Tami Chappell/Reuters
Roman Catholic Church official...
NBC News - MNSBC Comments
A Roman Catholic church official was convicted Friday of child endangerment but acquitted of conspiracy in a groundbreaking clergy-abuse trial
MORE BY -