Atheist group targets presidential candidates' faith with billboards
By DAN MERICA - CNN
Added: Mon, 13 Aug 2012 19:14:16 UTC
A prominent atheist group is using next month's Democratic National Convention to take aim at the presidential candidates' religion, putting up billboards targeting Mormonism and Christianity in Charlotte, North Carolina.
"Our political system is rife with religion and it depends too much on religion and not enough on substance," said David Silverman, president of American Atheists, sponsor of the ads.
"Religion is silly and religion has components that are inherently divisive. … There is no place for any of that in the political system," he said.
The billboards go up Monday in Charlotte and will stay up for a month at a cost of roughly $15,000. The Democratic convention runs September 3-6.
The billboard targeting Christianity features an image of Jesus Christ on toast and this description of the faith: "Sadistic God; Useless Savior, 30,000+ Versions of 'Truth,' Promotes Hates, Calls it 'Love.' "
The billboard targeting Mormonism lambastes – and, Mormons would say, distorts – specific Mormon doctrines: "God is a Space Alien, Baptizes Dead People, Big Money, Big Bigotry."
---
Tweet
RELATED CONTENT
MORE BY DAN MERICA
Unbelieving preachers get help to 'come...
Dan Merica - CNN 15 Comments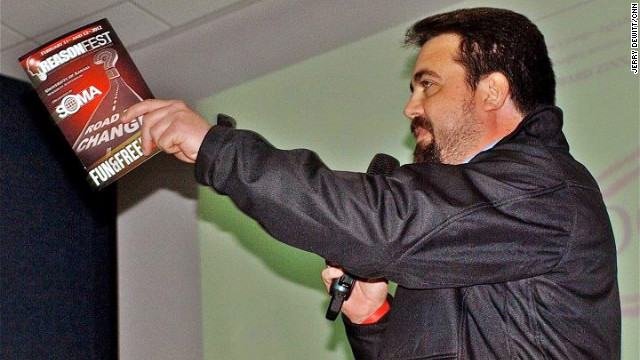 Minister-turned-atheist Jerry DeWitt speaks at ReasonFest in Kansas earlier this year.
Atheist group targets Muslims, Jews...
Dan Merica - CNN 70 Comments
Atheist group targets Muslims, Jews with 'myth' billboards in Arabic and HebrewDan Merica