How Obama's healthcare reform boosted abstinence-only sex education
By KATHERINE STEWART - THE GUARDIAN
Added: Wed, 15 Aug 2012 15:56:23 UTC
Congressional haggling over Obamacare meant conservatives won funding for faith-based sex education curriculums in schools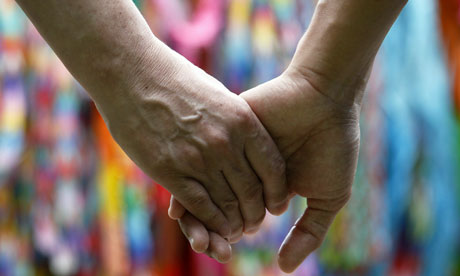 Holding hands: according to Tennessee legislators, a 'gateway sexual behavior'. Photograph: Kiyoshi Ota/Getty Images
When it comes to abstinence, it seems we just can't get enough. Back in the free-for-all days of the Bush administration, an astounding $1.5bn federal dollars was invested in the project of telling unmarried teenagers that the only thing they needed to know about sex was to not have any. In 2009, the Obama administration shifted to an evidence-based approach to sex and health education, and as a result, redirected federal efforts toward programs with better records in bringing down teen pregnancy rates, reducing sexually transmitted diseases, and improving the health literacy of students.
But the purity party is on again. One of the less well-known provisions of the Affordable Care Act, forced in by conservative lawmakers, calls for a return of abstinence-only sex education programs in public secondary education. To be fair, it wasn't just the naysayers who gained from healthcare reform; the Affordable Care Act also sets aside funds for sex and health education programs that have been proven to work. But conservatives managed to shoehorn an extra $50m per year over five years for abstinence-only programs.
At the same time, a number of states – Texas, Tennessee, and Wisconsin among them – are launching aggressive legislative efforts to promote abstinence-only education. In Tennessee, for instance, a bill that passed the house and senate in April 2012 specifies that teachers must "exclusively and emphatically" endorse abstinence, or face a $500 fine. The bill stipulates that contraceptives may be discussed only as an inferior means of preventing pregnancy and disease. The bill also allows parents to sue public school teachers and staff for allowing students to engage in what is bizarrely termed "gateway sexual behavior" – such as holding hands or hugging.
---
Tweet
RELATED CONTENT
MORE BY KATHERINE STEWART