Dis-honour killing, something good?
By JEL
Updated: Fri, 01 Jul 2011 19:34:21 UTC
So called "honour killings" are barbaric and this story is no different, but it appears that something good has come of it: the Palestinian authorities have scrapped the laws that provided for leniency in these cases.
Death in the West Bank: the story of an 'honour' killing
Harriet Sherwood, Guardian.co.uk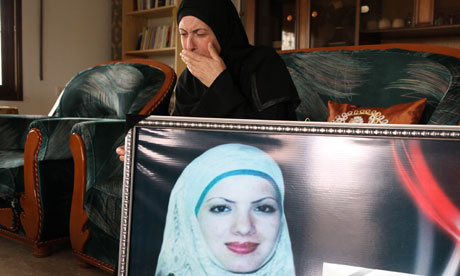 Fatima Baradiya, mother of Aya Baradiya, with a picture of her daughter Photograph: Gali Tibbon
As Ibrahim Baradiya recounts the events surrounding the last moments of his daughter's life at the bottom of a dark well, the agony of grief is drawn across the face of his wife, Fatima. She says almost nothing. Her eyes are half-closed. She shakes her head with small, rapid movements. A deep frown furrows her forehead. When the story is finished, she fetches her daughter's trinkets – beads, bangles, a hair clasp, a key ring, a purple pom-pom – and spreads them over the table and she weeps.
The story of Aya Baradiya's murder is like an incomplete jigsaw puzzle whose full picture may never be known; a dark and disturbing tale of death, lies, rumour, ruptured family relations, shame, despair and anger.
But the killing went far beyond a family affair. After the discovery of Aya's body more than a year after the 20-year-old university student went missing, her uncle confessed to Palestinian police, claiming it was an "honour" killing. Widespread protests against such crimes, led by students and women's organisations, erupted. In response, the Palestinian president last month scrapped historic laws that permitted leniency for the perpetrators of so-called "honour" killings.
Aya's father – a 56-year-old carpenter who works long hours to pay for the education of his 12 surviving children, five of whom are at university – begins the story with the day Aya went missing: 20 April 2010.
She left the family home in the West Bank town of Surif for an exam in English Literature at the nearby Hebron university. When she didn't return, Ibrahim and Fatima notified the police that she was missing and an investigation was launched.
Then the rumours began. Ibrahim heard variously that she was married, or had been spotted "in Ramallah, Nablus, Qalqilya, Jenin, Israel". Every time he heard of a possible sighting, Ibrahim went to look for his daughter, distributing photographs. At the time, the family never suspected Aya was dead.
Ibrahim now believes those rumours were all put about by his brother Okab, 37, currently in custody awaiting sentence for Aya's murder. "Okab said she had sent an SMS saying she was afraid to come back. All the rumours were spread by him. He tried to divert the security services."
In the previous months, Aya had received a marriage proposal from a man 17 years her senior. At first, worried about the age difference, Ibrahim had refused permission. "He came in an official way to ask, he did it properly. My daughter convinced me and then I agreed, but I said she could not marry until after her studies."
Aya's suitor was held by police for 35 days following her disappearance. Ibrahim begged him to reveal any information he had about her whereabouts. "He said: 'I don't know where she is. But your daughter disappeared after being with her uncle.'"
According to the family's account, Okab took Aya to his home a few days before her disappearance. While his wife was out, Okab made Aya coffee, they used the computer and Okab took a shower. Until Aya vanished, Ibrahim says his relationship with his brother was good. "After Aya disappeared, they stopped visiting. Even my sisters stopped coming. They were insulting my wife, saying: 'Now your daughter has run away, who will come and ask for your other daughters in marriage?'"
The suggestion that Aya had brought shame to her family's reputation had a powerful impact within conservative Palestinian society. The family was ostracised by their neighbours; Fatima rarely left the house during the 13 months between her daughter's disappearance and the discovery of her body.
Ibrahim, Fatima and their other children, whose ages range from four to 29, were distraught at Aya's disappearance, but they never gave up hope. However, says Ibrahim: "It was very hard for us. We were living in hell."
Then, last month, bones were discovered by chance in a well about four miles from the family home. Initially, it wasn't clear whether the remains were human or animal. "Even when the police in Hebron said it was a human body, I didn't think it was my daughter. I never thought she had been murdered."
But the police also found Aya's identity papers in a bag. Ibrahim and three of his sons were called to identify the remains. "We collapsed," he says.
The police went to the family home to give Fatima the devastating news as Ibrahim and other male family members were held for questioning – "harsh interrogation" – for three days. Ibrahim and his adult sons were released when Okab confessed to killing Aya. Okab and his accomplices had put a plastic bag over the young woman's head and thrown her, alive, to the bottom of the well. According to reports, he told police that he disapproved of her relationship with her fiance.
---
Tweet
RELATED DISCUSSIONS
MORE BY jel