Thread for discussion of Richard Dawkins and Archbishop talk
By RDFRS US
Added: Thu, 23 Feb 2012 19:42:33 UTC
Open discussion thread for the event
Article as noted by Steve Zara from The Guardian
No knockout blows in Richard Dawkins v Rowan Williams bout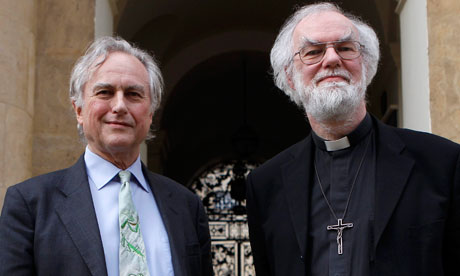 Richard Dawkins and Rowan Williams pose for a photograph before their debate. Photograph: Andrew Winning/Reuters
Roll up, roll up for the heavyweight shadow-boxing championship of the world! A grand contest between Oxford's undisputed champions of atheism and Christianity, Professor Richard Dawkins, and Archbishop Rowan Williams! In the blue corner, the charismatic preacher who has made thousands of converts around the world; in the red corner – Rowan Williams.
Both men have a fearsome reputation for beating the crap out of thin air. In the normal atheist v believer matches, the two contestants take position back to back, then punch the imaginary enemies in front of them.
In normal boxing matches, the duty of the referee is to keep the fighters from gouging and biting; but when you get a theologian and a scientist in the ring together, the referee's job is get them to try to hit each other and not flail at the air.
---
Tweet
RELATED DISCUSSIONS
MORE BY RDFRS US