Rachel Maddow Rips Anti-Abortion, Gay Marriage Bills (VIDEO)
By - - THE HUFFINGTON POST
Added: Fri, 30 Sep 2011 17:00:37 UTC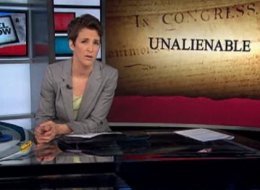 Rachel Maddow gave her Thursday viewers an update on drives to ban gay marriage and restrict abortion in states across the country.
She opened the segment by discussing a constitutional amendment against gay marriage that has been placed on the ballot in North Carolina. Noting that there are dozens of states with similar constitutional amendments, Maddow said that this was the reason rights are usually not put to a popular test.
"When we vote on minority rights of many, if not all, stripes in this country, we tend to vote no," she said. "It's part of the concept of rights: they're not supposed to be up for a vote."
click refresh if the video below is not displaying
Visit msnbc.com for breaking news, world news, and news about the economy
---
Tweet
RELATED CONTENT
MORE BY -