Christopher Hitchens night: a review
By GEORGE EATON - NEW STATEMAN
Added: Fri, 11 Nov 2011 02:43:38 UTC
Stephen Fry, Martin Amis, Salman Rushdie, Sean Penn and others unite to celebrate Hitchens.

Christopher Hitchens photographed for the New Statesman in May 2010.
"I'm not as I was," Christopher Hitchens poignantly remarked recently. Afflicted by oesophageal cancer and, now, pneumonia, Hitchens, who I interviewed for the New Statesman last year, was too ill to appear in conversation with Stephen Fry at the Royal Festival Hall in London last night. But rather than cancelling the event, the organisers assembled an extraordinary selection of Hitchens's comrades and friends to pay tribute to the great essayist and polemicist.
Richard Dawkins, Hitchens's fellow anti-theist, appeared on stage with Fry in London, and Martin Amis, his dearest friend, appeared via video link from New York, as did James Fenton and Salman Rushdie. The line-up also included actor Sean Penn (who Hitchens enjoys pool games with), former Harper's editor Lewis Lapham and novelist Christopher Buckley, son of the late conservative intellectual (whether there can be such a thing is a subject for another occasion) William F. Buckley, whom Hitchens often debated on US TV show Firing Line. It felt like a hyper-intelligent version of Question Time.
Wreathed in smoke clouds and looking as if he had just climbed out of bed, Penn (beamed in from LA) opened proceedings, discussing the political significance of The Trial of Henry Kissinger - Hitchens's account of the former US Secretary of State's "one-man rolling crime wave" - until the satellite link failed ("God damn you Google!" cried Fry). Regaining his composure, Fry welcomed Dawkins on stage. Dawkins and Hitchens are often spoken of as one entity (Terry Eagleton christened them "Ditchkins" in his 2009 polemic Reason, Faith and Revolution) but the former made an important distinction between their approaches. While Dawkins's hostility to religion is born of his commitment to science and free inquiry, Hitchens's reflects his moral outrage at what Dawkins called "a tyrannical God figure" and what Hitchens has described as a "celestial dictatorship". In this regard, Hitchens's anti-theism is merely an extension of his anti-totalitarianism.
---
Dawkins and Fry on Hitchens' Penchant for the Offensive from Intelligence Squared on FORA.tv
---
Tweet
RELATED CONTENT
Richard Dawkins & Lawrence Krauss...
- - YouTube - Atheist Foundation 43 Comments
Richard Dawkins & Lawrence Krauss Tribute to Christopher Hitchens - 2012 Global Atheist Convention
Orwell prize: Christopher Hitchens...
John Dugdale - The Guardian 4 Comments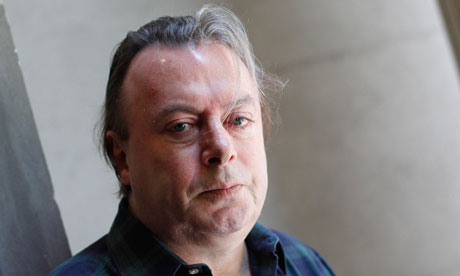 Orwell prize: Christopher Hitchens honoured with memorial award
Heaven Can Wait - Was I wrong about the...
Christopher Hitchens, as told to Art... 49 Comments

Heaven Can Wait - Was I wrong about the afterlife? No.
Appeal to Freethinkers to Fight Cancer
- - YouTube - ScottBurdickArt 14 Comments

Appeal to Freethinkers to Fight Cancer
Stephen Fry & friends on the life,...
- - YouTube - iqsquared 33 Comments
Stephen Fry & friends on the life, loves and hates of Christopher Hitchens - IQ2 talks
Christopher Hitchens - Free Inquiry 51 Comments
Why should he sit still and see a valued and precious discipline being insulted, even threatened with not being taught?